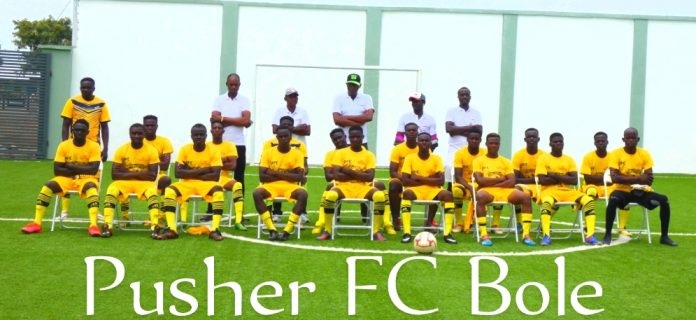 The management team and players of Bole based division two football club Pusher FC pay a courtesy call on Bolewura Sarfo Kutuge Feso I on Friday, 14th January, 2022 at his Palace.
Speaking on behalf of the team Mr. Mudashiru Dari Techi said Pusher FC was founded in in December 2020 by the the Chief Executive Kwame Adjei as a Division 2 club in Bole.
He said it was important that they officially pay Homage to the Paramount Chief of Bole and seek for his blessings.
Mr Mudashiru added that the club has since developed 30 players in the Bole District and they are praying and working hard to quality for Division 1 and possibly enter Ghana premier league by 2023.
Yiram Bolewura Sarfo Kutuge Feso I welcomed the team and encouraged the players to be professional in order to lift the image of Bole as far as sports is concern.
The Visionary Chief Bolewura Sarfo Kutuge Feso I also added that football clubs have historically had a significant connection with their local communities.
Bolewura said during the early days of Football clubs in Bole, many of the pioneering football clubs such as Bole United, Bole Red Lions and others were borne out of local entities such as Working Men's Clubs, Church organisations or prominent areas like Nyimange.
Bolewura noted that as the clubs developed through the 19th century, despite some questions over their motivations, they provided a solid local identity during a period of great expansion and migration to urban centres and that during these years Bole stood tall as far as the football game was concern.
The ParamountChiefof Bole said, football clubs became linked to cities, towns or districts and have developed longstanding relationships with local communities, both positively and negatively.
"For example, while some may see football clubs as a symbol of civic pride or personal identity, others see them as an inconvenience or aggravation"; he said.
Bolewura concluded by stating that; "My palace is solidly behind you and may your dreams come to light. Thank you for coming".
Source: nkilgifmonline.com/ Haruna Abdulai Obey