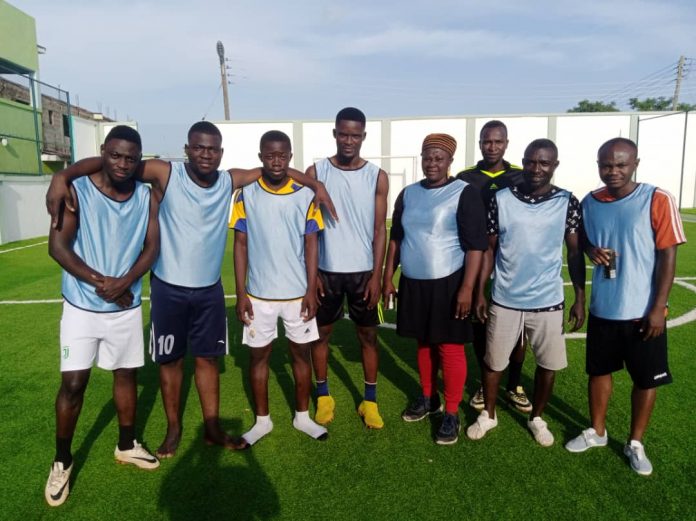 The Secretary of Bole based Nkilgi FM Madam Nana Adama Alhassan on Tuesday 28th September, 2021 guided her team as the Coach to overcome a highly tactical Wuripe and Sons Royal Lodge team in a friendly football match that Nkilgi FM won 10-5.
The football friendly match was played at the Astro turf pitch of the Wuripe and Sons Royal Lodge in Bole.
Team Wuripe took the lead with 2 early goals, but with the tactics adopted by Madam Nana, and her Assistant Coach (Jason Jajah), Nkilgi FM team scored 10 past Wuripe Lodge team on Tuesday 28th September 2021.
Mudasiru Afari Techi scored more than 4 goals in quick succession to dump the host team moral infront of Mrs Rita Adams Wuripe.
Other goals from Messi (3) Baba were enough to secure a win for the away team.
Team Wuripe got their goalkeeper and other players substituted, but it was too late as, they managed to pull 5 goals back.
Both teams are expected to line up again on October 1st, 2021.
Meanwhile reports from the camp of team Wuripe have it that, the owner of Wuripe and Sons Royal Lodge, Mr Adams Wuripe will play for his side due to their heavy lost in the first game.
Due to this rumour, team Nkilgi FM have also planned calling on their General Manager, Mr Mahama Haruna who is currently at Paga to join them for the second leg.
Source: nkilgifmonline.com/ Mudasiru Afari Techi