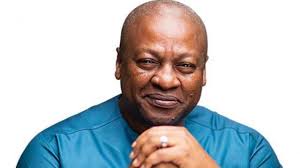 The era that NPP politicians, tribal folks, and the opposing media, created an unfriendly environment to promote hate and portray Mahama, as the evilest and corrupt president ever to lead Ghana has passed.
Now readers are no more interested to read such articles because the current psychological-torture state of Ghana is not what Ghanaians experienced during the era of John Mahama.
Mahama wasn't a saint, he was involved in corruption like all the African leaders but he did what in five years Akufo Addo couldn't do. His uncompleted projects abandoned in the bushes by the jealous Akufo Addo are Mahama's witnesses.
So, if you are a Ghanaian writer and still, you can't see the damage and havoc the NPP government has caused to Ghana, to write about to make the country better and you think can still go on to promote hate against Mahama, then, I am sorry to say that you are just wasting your time.
Akufo Addo and the Vice-President, Bawumia, lied to Ghanaians that John Mahama has stolen every money which belongs to Ghana, therefore, the NPP will come to protect the public's purse, save the economy and create more jobs.
Today, Ghanaians have lived to acknowledge the fact that the "the devil you know is better than an unknown angel," as the NPP government appears to be the most deceitful and corrupt political party ever to be registered among political parties in Ghana.
The former Ghanaian leader, John Mahama, is the best and the most intelligent after Kwame Nkrumah.
There was a time an article on "ModernGhana Opinions" could generate over 15,000 readers in a day. I have had this experience many times before but now readers' rate has fallen due to Youtube live news and broadcasts.
So to get about 1,000 readers for your article today, you need to come out with something special, not an article trying to let Ghanaians believe that John Mahama is more corrupt than Akufo Addo. Such stories don't sell anymore.
As said earlier, you are just wasting your time, Mr. Writer because Akufo Addo hasn't only ruined Ghana, he has killed it. Ghana is dead, people don't need wisdom from God to know this. It's only the burial time we don't know.
To summarize this, if you can't write about the crimes and havoc Akufo Addo and his government have done to Ghana, to make this country a better place, then don't waste your time writing against Mahama, intelligent Ghanaians are no longer interested.
Finally, if the NPP communicator, Buaben Asamoah, can't take the responsibility to accept that the incompetence of the NPP government is what has affected Ghana beyond recovery, he should bow down his head in shame and stop blaming Mahama for the party's disaster.
Source: opera.com 1/16/2022