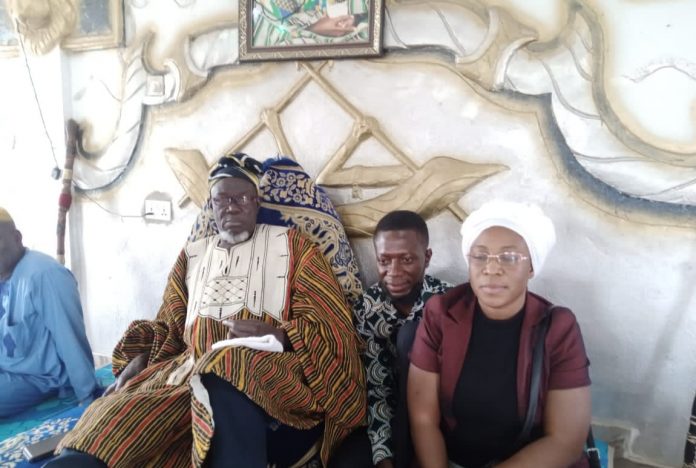 The management team of Bole based private clinic OSA Green Care Clinic paid a courtesy call on Bolewura Sarfo Kutuge Feso (I) at his Palace on 14th January, 2022.
The visit on Friday 14th January, 2022 was for staff of OSA Green Care Clinic to humbly introduce their services and to officially inform Bolewura of their presence and settlement in Bole to give quality and affordable healthcare to the people.
Speaking on behalf of the team Dr Richard Osayoe Tetteh said OSA green care clinic has been in existence for the past six (6) years with two (2) branches operating with Bole as its third branch and that their mission is to create a genial environment for healthcare access.
"We set ourselve apart from our sister providers through friendly and regardful relationship, designed not just to provide quality care but to welcome patients input in the management of their health"; he disclosed.
Dr Richard Osayoe Tetteh also said they have a vision to prove health for all and to provide quality and affordable healthcare for all and start with everyone that walks into our facility to access our services".
On their services he said; "we provide both general healthcare and herbal medical services to all ages (children, adults and the aged) and we provide general Out Patient Department diagnosis and treatment
laboratory services.
Dr Richard Osayoe Tetteh said ward for inpatients services detention and general admissions; breast cancer screening
Cervical cancer screening; homebase care for our chiefs and incapacitated patient and diet management services are also provided.
On the packages designed to give back to society, Dr Richard said there will be a discount for the aged of 70 and above, opinion leaders and pupils during school hours.
On the way forward
Dr Richard Tetteh said acquisition of land site for hospital project 2023
expansion of the incumbent facility will include maternity ward, laboratory department
Ultrasonography unit and increasing bed capacity for inpatient.
Bolewura Sarfo Kutuge Feso (I) thanked the medical team for choosing to operate in Bole, the capital of his Traditional Area.
He said it is a good decision and in the right direction.
The Bolewura was emphatic that; "a good commodity markets itself hence your services shall determine your clients and I wish you nothing but the best".
Source: nkilgifmonline.com/ Haruna Abdulai Obey