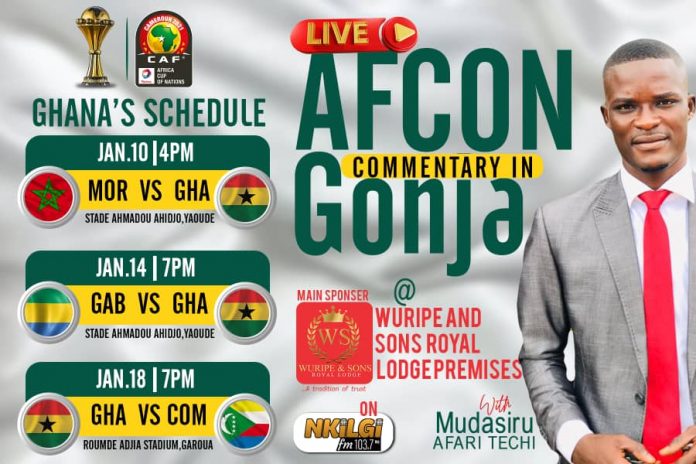 The Marketing Committee of Bole Wuripe & Sons Royal Lodge together with its management will make provisions for a live commentary of all Black Star matches of the Total Africa Cup of Nations at Cameroon in the Gonja language.
The tournament will also be televised live at the premises of Wuripe&Sons Royal Lodge for spectators.
As part of the agreement Wuripe & Sons Royal Lodge will parner Nkilgi FM in Broadcasting the tournament commentary live on air as the major headline sponsor
Nkilgi FM will Broadcast live all Ghana Black Stars Matches live including pre and post matches effective analysis within the hotel premises.
Wuripe & sons Royal lodge will bear the cost of flyers for promoting & hyping the tournament on our social media handles and will provide all other things including call credit to run the live commentary and refreshments for four people (2 hosts and 2 sports analysts) during Ghana Black Stars Matches
Nkilgi FM will also interview live customers patronizing Wuripe&Sons Royal Lodge products (food and drinks ) in a way of making the place lively and promoting the hotel .
Finally Wuripe & Sons Royal lodge will bear the cost of food and drinks for 2 callers who may give a correct score line predictions of every Ghana Black Stars Match.
The Black Stars are in group C as well as Morocco, Gabon and Comoros.
The dates and time for Ghana Black Stars Matches in the group stages are as follows:
Monday 10th January
Morocco v Ghana (4:00pm).
Friday :14th January
Gabon v Ghana (7:00pm).
Tuesday 18th January
Ghana v Comoros (7:00pm).
Source: nkilgifmonline.com