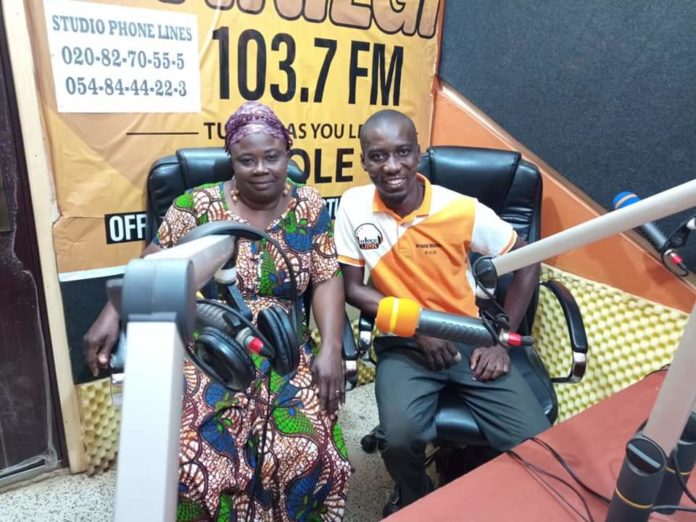 The Chief executive Officer (CEO) of the Hyperlink Media Awards scheme Mr Arnold Mashud has visited Bole- based Nkilgi Fm on Thursday 15th August, 2019 as part of the organisations nationwide media tour.
Speaking to Nkilgi Fm Mr Mashud when he visited Mr Mashud said the Hyperlink Media Awards is a nationwide award scheme that is structured to appreciate the works of Media professionals and organizations across the country. He explained that they had a successful event last year of which quite a number of media professionals walked home with quite a number of stuffs.
"Surely this year we are here again, the nominations are opened and then individuals and organisations can log on to our website to power for nomination"; he said.
He further they are currently having a nationwide tour of all media houses across the country.
"We have been to all the regions and then the last region we will be going from here is Upper West. So when we finish with Upper West that means that we have been able to cover all the regions and what that means is that participation is going to be high".
"It doesn't matter where you are coming from or which media organisation you are working for; if you are doing a great job, your works will be recognised so we believe that those who are in the rural areas, those who are far a way from the capital are those who are rather feeding those media houses in the capital with news and the need to be appreciated"; Mr Mashud said.
He also explained that the Hyperlink Media Awards is opened for everybody.
"If you are doing a media work, we are recognising all the sectors of media even producers of the year, there is a category for them, technicians, those who are behind the scenes doing quite a number of work are also there"; he
So all these are there, if you log on to Www.hyperlinkawards.com you will be able to read more about the awards scheme and how you can file for nomination"; he explained.
The 2019 Hyperlink Media Awards scheme is expected to recognise the hard work of media personalities and organisations whose efforts have helped in the development of the country.
Source: nkilgifmonline.com