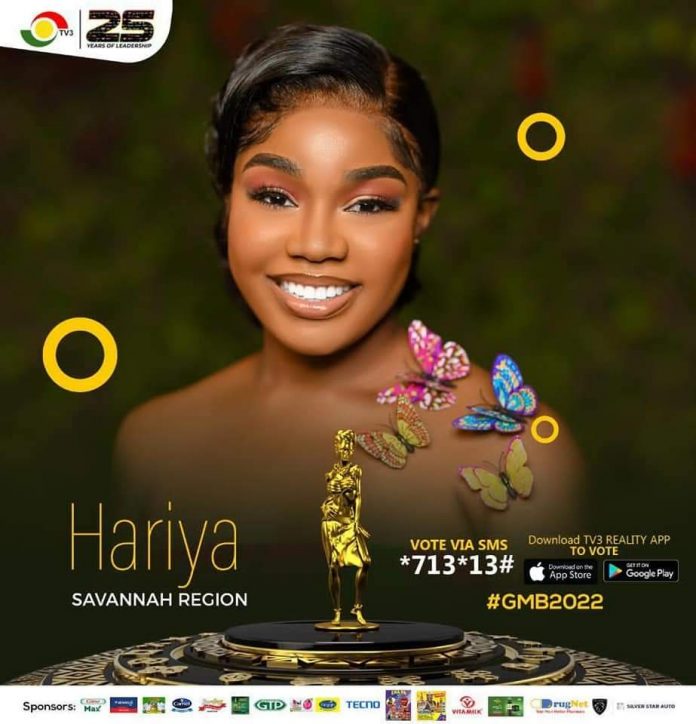 Miss Hariya Yussif Achone, a 20 year old student of the University of Ghana is representing the Savannah Region in this years Ghana's Most beautiful contest prompting the hardworking Greater Accra Organiser of the Gonjaland youth Association (GLYA) Issahaku Manfulwura to add his voice to the campaign to bring the crown to the savannah region this year.
Issahaku Manfulwura has assured the people of Savannah region that TV3's Ghana's Most Beautiful (GMB) crown is coming home this year considering the exceptional performance of Hariya the Savannah Region representative at the GMB house adding; "the type of energy Hariya was displaying on that platform gave Me hope of winning this years crown".
In an interview with Francis Abudu Jnr, who reports for Bole based Fm from Greater Accra Region, Issahaku Manfulwura used the opportunity to appeal to sons and daughters of the Savannah Region to vote massively for their representative to emerge victorious.
Manfulwura passionately appealed to the Chiefs and people of thenSavannah Region and Gonjaland to support Hariya to ease the load on the few personalities who have been supporting the GMB activities for a number of years now.
Issahaku Manfulwura mentioned the former president John Dramani Mahama; Dr Clifford Braimah- Managing Director, Ghana Water Company Limited; Prof Ahmed Nuhu Zakaria – Chief Executive Officer, Ambulance Service; Hon Lydia Alhassan – Mmeber of Parliament (MP) Ayawawo West Wuogon and other dignitaries from the Greater Accra region as some of personalities who have consistently done their best to support anything Savannah.
Manfulwura said; "this time round, all hands must be on deck to win the crown for the first time.
He said; "the Ghana's Most beautiful contest has become a marketing platform for Gonja culture and tradition hence must be given the needed attention by all Gonjas to keep the agenda of promoting our Culture and Traditions internationally".
The Greater Organiser of the Gonjaland Youth Association added; "Little drops of water forms a mighty ocean, so no amount is small, Every Vote counts."
Manfulwura further extended his profound gratitude to the General manager for Nkilgi Fm, Mahama Haruna for his immerse effort in promoting Hariya to win the GMB crown and also revealed that; "in the coming days, other prominent personalities from the Savannah region will also add their voices for support for our dear sister Hariya".
Manfulwura concluded by calling on the good people of Savannah region to come all out to support Hariya by voting massively for her to win this years contest
Last Sunday 21st August, 2022, the Ghana's Most Beautiful contestants celebrated the 25 years long journey of the TV3 broadcasting network discussing the impact of beauty pageantry on the nation.
Hariya paired nicely with the Savannah Region GMB 2021 representative for the Savannah Region Arama came out with the Best Costume of the night.
Source: nkilgifmonline.com