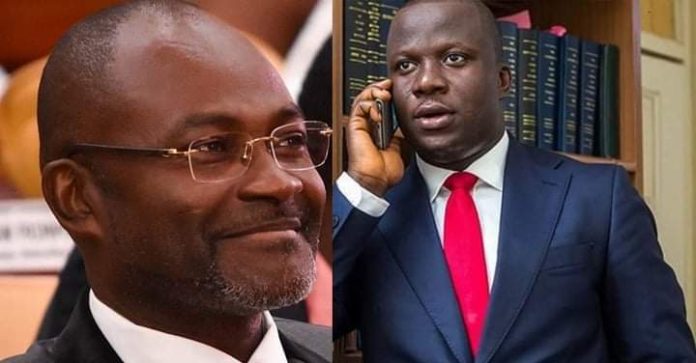 The Member of Parliament (MP) for Assin North, Hon. Kennedy Agyapong and a Flagbearer hopeful of the New Patriotic Party's (NPP) in a viral radio interview has
showered praises on the brilliance of the MP for Damongo Constituency and Minister for Lands and Natural Resources Hon. Samuel Abu Jinapor
for being the only MP in Northern Ghana who does not play tribal politics.
AccordingSpeaking onAccra based Neat Fm, Hon. Kennedy Agyapong said the Damongo MP Hon Samuel Abu Jinapor has always been exceptional in the way he comports himself when ever he is in the mist of the public domain, as well as the respect he gives to his colleagues MP's and personalities.
He said non of the MP's from the region's of the North commands such respect from him Kennedy Agyapong because they all play the tribal cards and politics when they travel North to their constituencies.
Kennedy Agyapong added;
"Abu has never gone anywhere to insult me, he is a very fantastic guy. I did not fight for him to be a minister.
Abu is another fantastic Guy"
Hon. Kennedy Agyapong further said; "The way he composes himself, look the northern MPs they play tribal
anytime you get to Savannah region, Abu will tell you and I get all the feedbacks and I will tell you, the way they have treated me, these members of Parliament"
Hon. Kennedy Agyapong was asked on his chances of emerging the sole candidate Flagbearer of the NPP because, Vice President Dr. Mahamudu Bawumia had over 60% votes in the superdelegates conference whiles he came second.
Hon. Kennedy Agyapong replied,
"That is is 965 compared to over 2,065 delegates,
Are you saying the
965 are final?. Then why did they extended to 200 if they are the final decision makers?
No, so it doesn't reflect anything the will be a showdown."
Source: nkilgifmonline.com