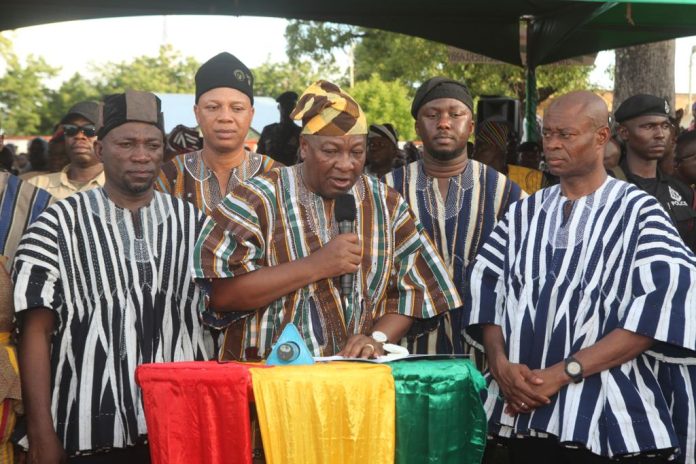 Former President John Dramani Mahama has bemoaned the high rate of the felling of Shea trees in the Savannah Region.
Speaking in Damongo during this years Annual Damba festival of the King and Overlord of Gonja, former President Mahama appealed to the King and Overlord of the Gonja Kingdom, Yagbonwura Biikunuto Jewu Soale (I) to stamp his authority to help curb the menance since many valuable trees including the Shea trees are very much under attack.
Former President John Dramani Mahama in his address at the Durvaof Yagbonwura's Damba on 3rd October, 2023, said;
"Even though the shea tree has several commercial value it has been under attack by charcoal burners in recent times".
He added that if something is not done immediately, generations unborn will struggle to identify what is known as the shea tree all because of the activities commercial charcoal business in the region.
In Northern Ghana, the shea tree is an indigenous and restricted asset. The tree produces shea nuts (seeds) from which shea butter is extracted.
Also known as vitellaria paradox, the shea tree has a useful fruit bearing life span of more than 100 years.
The perennial crop grows naturally in the dry savannah belt of West Africa, from Senegal in the west to Sudan in the east, and on to the foothills of the Ethiopian highlands.
In Ghana, shea tree is mainly found across the five regions—including and in the Northern part of the Volta Region.
It's a traditionally protected indigenous tree in these countries.
The trees are not traditionally planted in a domesticated manner but rather selectively managed through agroforestry systems.
In terms of importance, its oil is second to palm oil. Currently, both the shea nut and shea butter are international commodities, and constitute a primary source of monetary income for rural people.
Aside from the health benefits, harvested sheanuts have its own economic benefits.
Shea butter is used as a moisturiser as it is rich in vitamin A, E and F, which soothes balances and hydrates the skin. It speeds up healing of wounds, promotes growth of healthy tissues in ulcerous wounds and it is used to treat baby circumcision wounds.
However, the rate at which these commercial trees are been destroyed, it is threatening the existence of vegetation in the north.
What is even more disturbing is the fact that according to Ghana's Environmental Protection Agency (EPA), about 80% of every 100 basketfuls of charcoal produced are from Shea trees, the other 20% come from 'dawadawa' and neem trees.
Source: nkilgifmonline.com