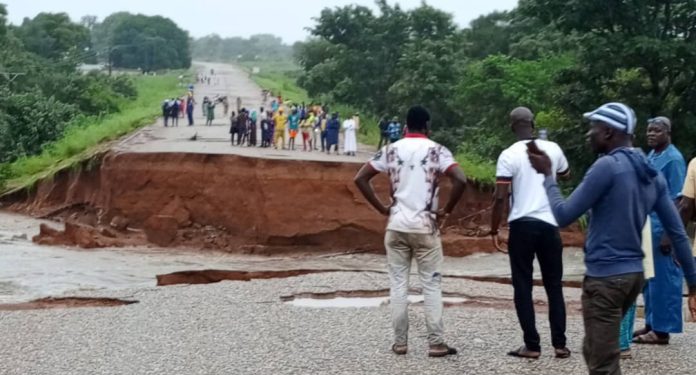 The Member of Parliament (MP) for Bole-Bamboi Constituency Alhaji Yusuf Sulemana has admonished his constituents and commuters from Southern Ghana to the Upper West Region, using the
collapsed Doli bridge near Bole in the Savannah region to have patience as he, the Minister of Roads and Highways and other stakeholders work around the clock to fix the bridge.
According to the MP, the Minister of Roads and Highways Hon Amoako Atta has promised to visit the Doli bridge site on 19th September, 2023 with his experts and a contractor.
In a social media post on Bole based Nkilgi Fm's WhatsApp platform on 18th September, 2023, the MP wrote;
"Permit me to use this medium to give you an update on the progress made so far regarding our collapsed bridge at Doli. A couple of hours ago, the Minister of Roads called me on the bridge and promised to visit the site tomorrow with his experts and a contractor, He assured me that there will be alternative road to reduce the time and cost of using the current alternative roads".
The Bole MP also said; "It is my prayer that between today and tomorrow, we won't have more rains in that area.
I wish to commend the regional minister for his effort to help resolve this issue. I will keep the house informed as and when there is any new news."
A heavy downpour in Northern Ghana in the early morning of 17th September, 2013 washed away the Doli bridge cutting off the Upper West Region to Southern Ghana.
The washing away of the Doli Bridge close to Bole has made thousands of passengers and commuters from Southern Ghana to Upper West and vice versa stranded as there is no way they can get to their destinations through that stretch of road.
The busy road is l the main highway that leads Ghana to Burkina Faso and Mali with hundreds of trucks passing through the area.
Source: nkilgifmonline.com