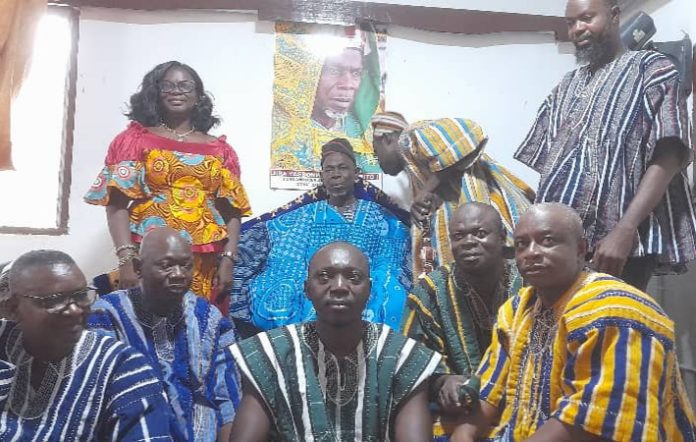 In a significant step towards fostering collaboration and strengthening educational ties, the savannah Regional Director of the Ghana Education Service (GES) paid a visit to the revered Overlord of the Gonja Kingdom Yagbonwura Bikunuto Jewu Soale (I) on Thursday 13th July, 2023.
The visit aimed to discuss matters of mutual interest, including education initiatives, the development of educational infrastructure, and the promotion of quality education within the Gonja Kingdom.
The GES Director for Savannah Region Mrs Mabel Judith Micah embarked on a noteworthy visit to the Gonja Kingdom, where she met with the esteemed Overlord Yagbon Bikunuto Jewu Soale. The meeting highlighted the commitment of both parties towards improving educational standards in the region.
Mrs. Micah was accompanied by a delegation consisting of GES officials and local education authorities. The visit served as an opportunity to the director to introduce herself to the Yagbonwura and to engage in meaningful discussions, exchange ideas, and explore collaborative ventures that could enhance education in the Gonja Kingdom.
During the meeting, Mrs Micah expressed his appreciation for the warm welcome extended to her by the Overlord. She emphasized the GES' dedication to promoting inclusive and quality education across Ghana, with particular attention to underserved regions like the Savannah Region.
The King and Overlord of Gonja Yagbonwura Bikunuto Jewu Soale (I) commended the GES for their commitment and acknowledged the importance of education in empowering individuals and driving socioeconomic progress.
Both parties agreed on the significance of fostering a collaborative environment between the GES and local stakeholders, including traditional authorities, community leaders, and parents. Such collaborations aim to create a comprehensive support system that nurtures and encourages the educational growth and development of students in the region.
Mrs Mabel Judith Micah expressed her gratitude to the Yagbonwura for his hospitality and reaffirming the GES' commitment to work closely with the Gonja Kingdom.
The visit marked an important milestone in the efforts to improve education within the Gonja Kingdom and highlighted the collective determination of the GES and the local community to enhance educational opportunities for all. Through this collaborative partnership, it is expected that the educational landscape in the Gonja Kingdom will witness positive transformation, empowering generations to come.
Sourc: nkilgifmonline.com