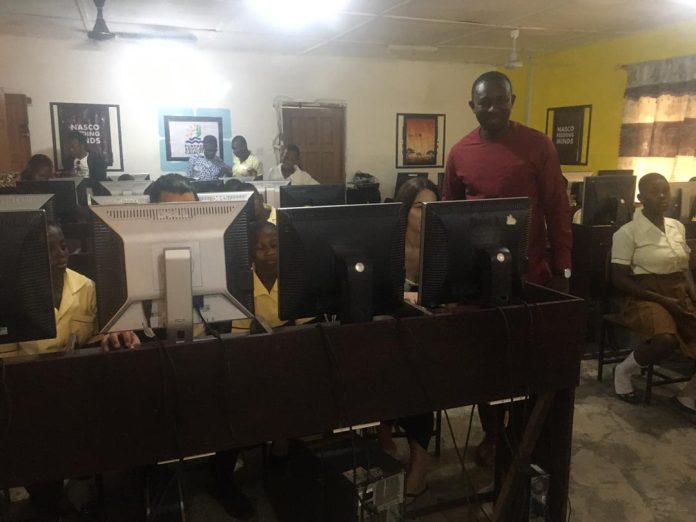 The President of Nasco Feeding Minds Mr. Osman Umar and the Chief Executive Officer, (CEO) Seidu Nuhu Banasco on Tuesday January 24, 2023 , launches two Information and Communication Technology (ICT) centers in Sawla.
64 computers were distributed to the Sawla Girls Model Junior High School (JHS) and the St. Augustine JHS cluster of schools in Sawla town.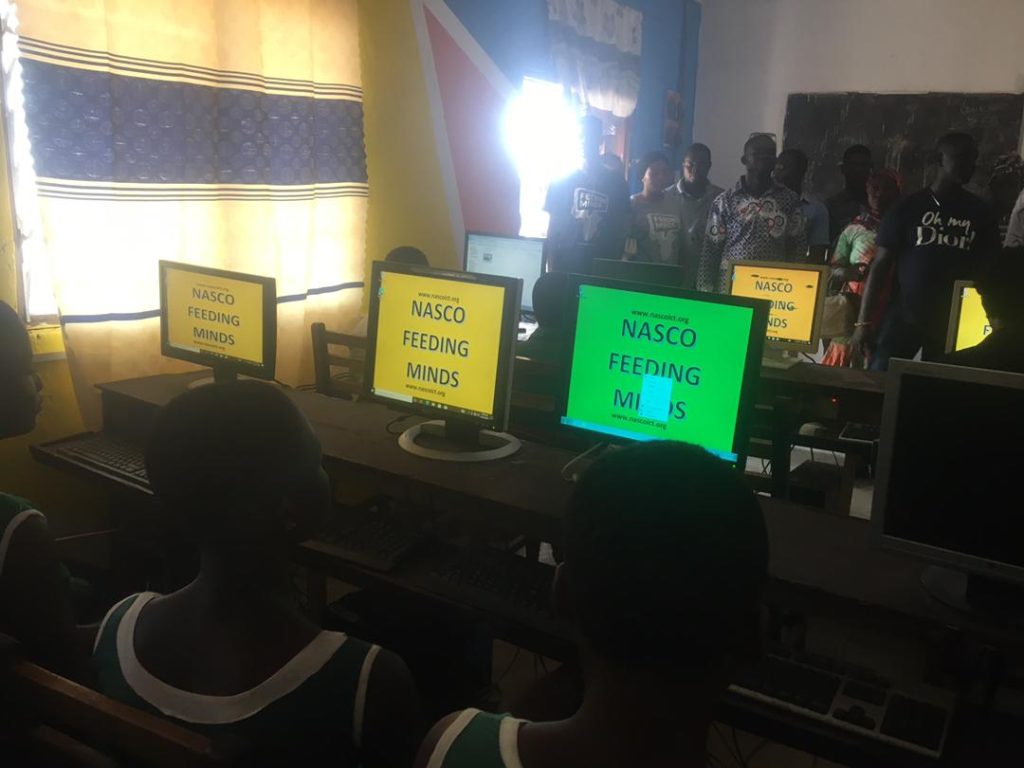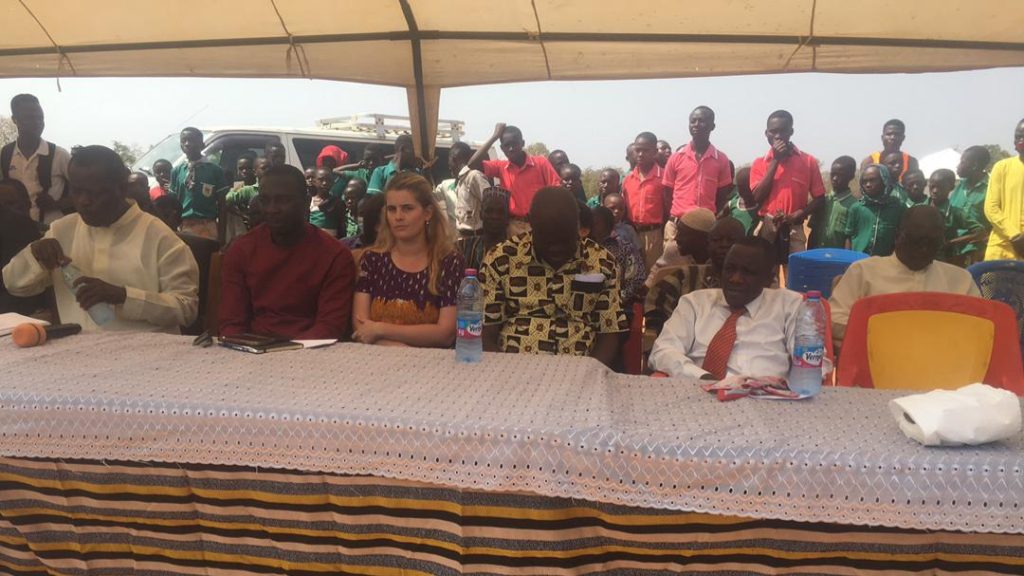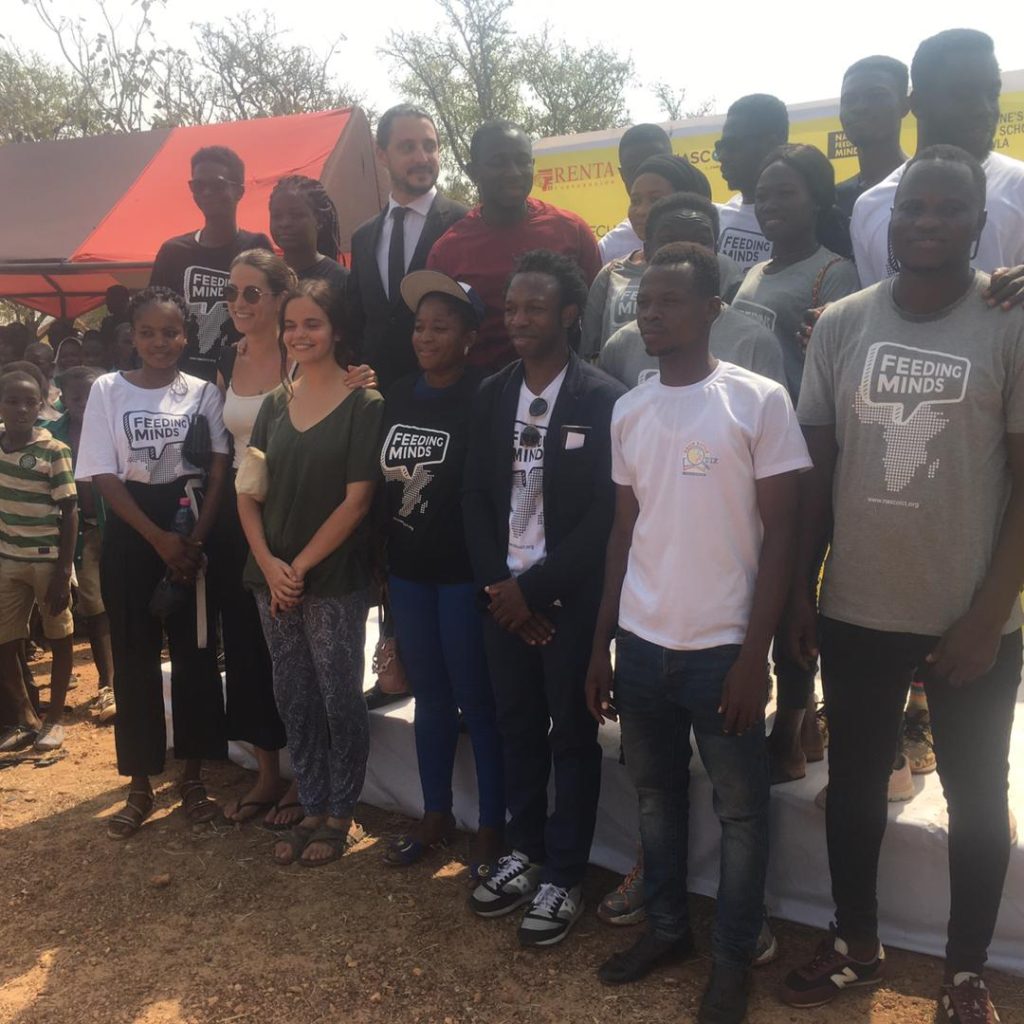 Speaking at the Sawla Girls Model JHS, Mr Osman who is the founder of this organization explained that his mission was to give the little opportunity he had to the younger ones back home and said he could have stayed over there thinking of himself because he never had any help from anyone to cross the desert.
He added in his explanation how he managed to survive there after about 90 percent of his friends had died through their struggle and never had anyone to encourage him but thought that they all had the promise to support someone who needs it.
Mr Osman encouraged all and sundry to take any opportunity to make this part of the world a better place to live, saying that they can be the presidents and Ministers of their homes and communities.
He said he was criticized on his decision of wanting to invest in Information Technology (IT) and education by his colleagues but he saw that it was lack of information and education is what led him to the struggle he went through to reach where he has gotten to and the only thing he can do is to assist those he need information to breed a better future for themselves.
He added that this initiative is to create an opportunity to stop those who want to go to Europe, stating that they can create the Europe they want here in their community and he called that they get their younger once prepared to get involved in this initiative of battle and the girls cannot be left behind.
He said he was laughed at in a mobile world congress in Bacelona when he said he wanted to create a silicon valley in Ghana and Africa and he is happy that the dream has come true.
The CEO of Nasco Feeding Minds Hon. Seidu Nuhu Banasco explained that their reason being at the program is to launch two ICT centers in the Sawla-Tuna-Kalba district bringing the total number of ICT centers to 17.
He added that they are not just excited about the number of computer centers they have established but they are excited that one of the centers was established 10 years ago and so it is a testimony that Nasco Feeding Minds is not just establish computer centers but they run literacy ICT projects to ensure that every center they establish is operational for the period within which it is supposed to be.
He expressed their happiness for always coming back to their people to establish such centers after they had established so many centers across the country and he believe that Sawla will one day be the silicon valley of Ghana and Africa.
The Headmistress of Sawla Girls Model JHS, Madam Ubeida Adams expressed her delight to have had the dignitaries in the launch of the ICT center.
She narrated that the Sawla Girls Model JHS was established in the year 2008 by Ibis in collaboration with the District Assembly of Sawla and the Ghana Education Service, stating that the intention was to promote the girl child education in the district which will lead to more girls completing JHS and subsequently continue their education in the Senior High School and tertiary levels.
She said the school has over the years received so much support from different organizations and the donation of the Nasco Feeding Minds is one of the outstanding support the school is receiving and she thanked them for the support.
Madam Ubeida further stated that the school has produced so many girls who have had admissions to several senior high schools and tertiary institutions to compete with other male students.
She added that it is regrettable to note that the school is faced with numerous challenges despite its success of the years which need attention from stakeholders.
She outlined some of the challenges the school faces that include bad classrooms and dormitories, uncompleted dining hall, lack of tables and chairs in the dining hall and classrooms, no fence wall, etc and therefore called for stakeholders to come to their aid.
In a speech delivered by the Headmaster of St. Augustine Junior High Cluster of Schools, Mr. Yelelagee Wilfred explained that the project started in the year 2012 by Hon. Banasco and his team and also emphasized that Banasco is an old student of the institution, stating that they are proud of him.
He added that the center has been in existence since September 17, 2012 and has been the first of its kind in the Sawla-Tuna-Kalba district.
He added further that the center was improved and modified in 2015 and are witnessing another renewal that has modified the entire literacy project center with 32 new computers with internet connectivity.
He said the establishment of the center has since helped both teachers and students in computer literacy and said they have never regretted signing onto this contract with Hon. Banasco and his team of sponsors.
The Headmaster also said the center has been facing some challenges since he assumed office in 2018, but were assured by Nasco Feeding Minds that everything was being done to ensure the center is being brought to its past glory.
He added that the school is very grateful to Hon. Banasco and his partners and also thanked him for his recent donation of a set of jerseys and a football to the school and on behalf of the entire school and stakeholders of the school thanked Nasco Feeding Minds.
He further made an appeal to Banasco and his team of sponsors to help solve some of their challenges which includes lightening system, a substantive ICT teacher, a projector in the center, a laptop for administrative use, and a printer.
He concluded that the sustainability of the center relies on the parents and them, and if they are not able to do their part, the project will become a white elephant and therefore want to appeal to parents to ensure that it survives for the future generation.
Source: nkilgifmonline.com