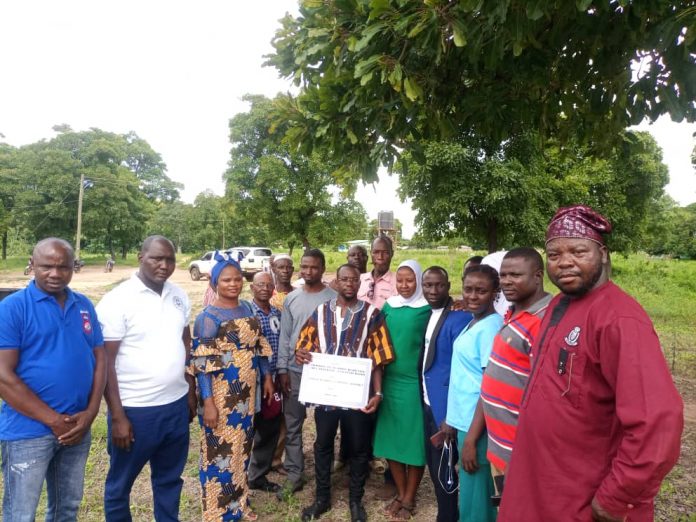 The District Chief Executive (DCE) for the Sawla-Tuna- Kalba, Madam Losina Barikisu Watara has last week joined the Chief and people of Gindabo to hand over a construction site to a contractor for work to begin on the construction and upgrading of the Gindabo health center to a polyclinic.
In a short address at Gindabo the DCE revealed that the project is to provide three (3) wards for males, females and children and this include a theater and a doctor's residence.
The Chief of Gindabo on behalf of the people expressed their joy for a dream come true. He pledged that he and his people will give a maximum support to the contractor on the discharge of his duty.
Madam Barikisu Losina was accompanied to Gindabo by the Constituency executives of the New Patriotic Party (NPP) for Sawla-Tuna-Kalba.
Meanwhile on behalf of the Gindabo- wura and elders, the NPP Gindabo zone polling stations executives, the NPP caucus in Gindabo, and the entire Gindabo community expressed their profound gratitude and appreciation to the DCE for Sawla-Tuna-Kalba for honouring the people of Gindabo and its environs with an upgraded health facility- a Polyclinic
The NPP Electoral Area Coordinator for Gindabo West Sidiki Adams said the party fraternity in and around Gindabo is particularly very grateful to the DCE for sitting this Polyclinic at Gindabo.
He said; "this facility when completed will help raise the health standards of residents of the community and the district at large and it will also remain the single most monumental development project the community has ever witnessed under the 4th Republic, executed by no other political party or government than the NPP government".
Source: nkilgifmonline.com