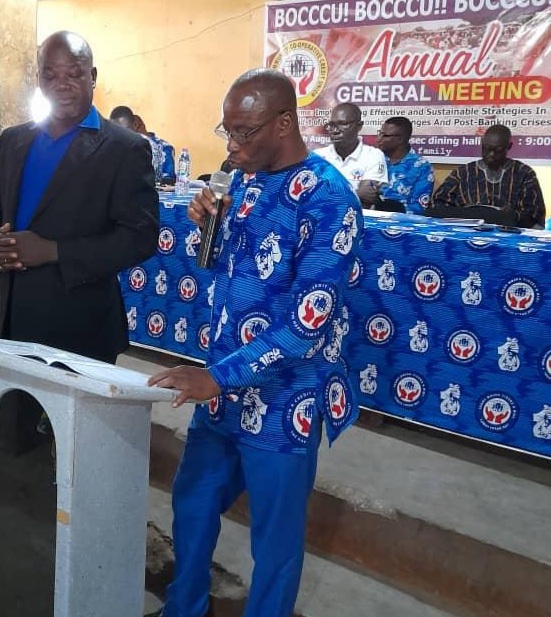 The Bole Community Cooperative Credit Union has held its Annual General Meeting (AGM) with their customers and other stakeholders at the Bole Senior High school Dining Hall on 27th August, 2022, to account to its customers and to make known the progress of the credit union.
Speaking to Bole based Nkilgi fm at the Annual General Meeting under the theme; "Implementing Effective and Sustainable Strategies in the midst of Global Economic Challenges and Post-Banking crises"; the General Manager of Bole community cooperative credit Union Mr Issah Hussein said the meeting was organised for members every year to account to their members, the progress of the credit union.
Mr Issah Hussein explained that their operations now covers almost every part of Savannah Region because, the have a lot women group at Bamboi, branch at Tinga, Tuna Damongo and the main office in Bole.
He said their assets have grown from Gh¢9 million in 2020 financial year to Gh¢11.8 million in 2022 financial year.
Mr Hussein added that with their net surplus they have done a lot though they were faced with challenges.
He said from post banking challenges and the COVID-19 but the Bole community credit union has still been able to make a surplus which is about Gh¢699,000 and so this tells everyone that the credit union is performing very well.
Issah Hussein thanked their members for supporting Bole community cooperative credit union and still urged members to save with the credit union to move it forward.
He also said they have heard alot of complains that the credit union is running away and he wants to asked that "where are the running to because is for the credit union if for the Community"
He pleaded with all their members to always come to the office to find out the truth anytime the hear anything about the bank outside.
The 2022 Annual General Meeting of the Bole community cooperative credit union was attended by hundreds market women, farmers, teachers, businessmen and women from every part of the Region who save with them.
The Chairman of the Board of Directors, Mr Natomah Dramani in said their books indicate continuous growth in profit, liquidity, membership and other operational. He encouraged the Board and Management to continue with the good policies, programmes and apply same to all members that brought about their annual growth.
Source: nkilgifmonline.com