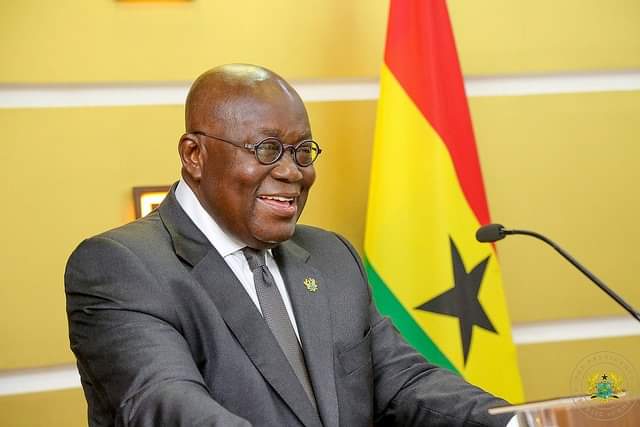 Concerns have been raised by many in the Savannah Region especially residents of Bole District as to why President Nana Akufo-Addo since 2017 when he became President of Ghana has never visited nor stepped foot in Bole District.
There were a lot of debate on social media when the General Manager of Bole based Nkilgi Fm, Mr Mahama Haruna put forward a questions which seek to ask why President Nana Akufo-Addo since becoming President of Ghana hasn't visited Bole District even though President Akufo-Addo will be in the Savannah Regional capital of Damongo on 24th August, 2022. and that will be about the 8th time he is visiting Damongo but has never stepped foot in Bole a very important town in the Savannah Region.
Mahama Haruna said the President has visited almost all District capitals in Savannah since he became President except Bole.
According to the Nkilgi Fm General Manager during the 2020 elections President Akufo-Addo got to Sawla, a community closer to Bole but refused to visit Bole.
He said, President Nana Akufo-Addo has always refused to extend his visits to Bole and currently is in the Upper West without passing through Bole.
Mr Mahama Haruna asked, what is Bolewura Sarfo Kutuge Feso (I) and our Traditional leaders in Bole doing about the situation because taking politics aside Bole needs development.
On that note, Mr. Fusheini Dramani a native of Bole agreed with with the General Manager of Nkilgi Fm and said; "In fact, l fully support the write up of Mahama Haruna. Because it is so painful that, since after the current
President ascended to the highest office of the land, he has never paid a visit to Bole. What crime have we committed as a people?"
He added; "being a head of a political party is entirely different from being a President of the Republic of a country….to be a President, you are a father to all, irrespective of their political affiliations, or whether they have voted for you or not. But how long can the president continue to neglect Bole?"
Mr. Fusheini Dramani further said, the people of Bole are also part of citizens of Ghana and also need developmental, because when one watch wherever the President visits, the people put before him, developmental issues they want in their traditional area, and in Bole's case, he doesn't even visit, so how do we have the opportunity to put before him directly a whole lot of developmental deficits confronting us?"
Mr Fusheini Dramani cited an example when President Akufo Addo went to Yendi in recent times and commissioned the dualization of Yendi Town roads, the construction of Yendi ultra modern sports stadium, construction of ultra modern youth centre in Yendi, installation of traffic lights amongst others, also the President Akuffu Addo went to Kentu South in the volta region and commissioned an ultra modern office for Ghana national Fire service, and other developmental issues in other Districts in the volta region.
He said; "today President Akufo Addo is in Wa in the upper West Region, to pay a courtesy call on the Wa Naa and his sub chiefs in the Wa traditional area, and commissioned an ultra modern Soldier's barracks edifice constructed, Wa shopping centre , and to inspect other works in Wa such as the ultra modern Wa youth resource Centre amongst other developmental issues in Wa after which the President will proceeding to Nandom, to commission the dualization of Nandom Town Roads amongst other developmental issues there, and visits other Districts and Towns as well".
Mr. Fusheini Dramani said the simple question he wants to ask is, If the President of the Republic is able to visit Volta region, which is perceived to be the world Bank of the opposition NDC, politically, then what is equally preventing him from visiting his opponents home town to depeen the democracy of our Country? How long can we continue to suffer the price of neglect for Bole for what ever reason or reasons? Why can't our representatives who are In the ruling government take a cue from happenings in other regions and his visit to other towns and also encourage him to come to Bole to see for himself developmental challenges confronting the people over there like he is doing across the Country?
His next question was that, since all the other towns that the President visits are pro NDC supporters communities, why should Bole be neglected by his visit?

Mr. Fusheini Dramani admonished all stakeholders to wake up as a people to ensure President Akufo Addo for once pays a visit to Bole to directly interact with the people to know the developmental challenges confronting Bole District.
He added that, the essence of politics is development and not neglect of particular areas which are in dire need of similar developments.
According to Mr. Fusheini Dramani,
Bole is indeed in dire need of similar developmental projects such as our abandoned Teacher training college, construction of our town roads and also dualization of Bole town roads, construction of ultra modern youth centre, modern community centre, amongst others.
In his submissions, Mr. Fusheini Dramani said, any one who wants to pretend over this very important and painful stigma attached to Bole by the head of state, "we shall resist that and call a spade a spade"
He said, It is this kind of attitude and parochial interest of few individuals that led to the underdevelopment of Bole, and the time is now the citizens of Bole to wake up from their slumber towards fighting for development for the place. Because Bole also deserves better.
Mr. Fusheini Dramani Dramani said he is not surprised with the turn out of events because he recalls vividly when the
Savannah Regional Minister Hon. Saeed Muhazu visited Bole recently and made it clear on Nkilgi FM that he and the Damongo MP Hon Samuel Abu Jinapor, are pushing much development projects there, hence the development we are seeing in Damongo.
Another indigene of Bole Mr Seidu made remarks that,
President Akufo Addo should remember that, he is a President of the Republic, which means he is supposed to be a father to all in the country irrespective of whatever differences, because being a President is different from a political head. therefore,our concern is the neglect of visit by the head of state of Ghana.
Nkilgi Fm's Manager Mr. Mahama Haruna agreed with the comments and said, it is the visit of President Nana Akufo Addo that paves the way for the Chiefs and people to take the opportunity to put their developmental issues before him directly, so when he is not visiting then Bole is being denied of so many developmental projects confronting the community.
Mr Mahama Haruna advised that, it's high time we as a people bury the hatchet for the sake of development of Bole and the traditional area.
In the debate, Mr. Sakara Mahama disagreed with most of the comments with reasons that, most of the time, President Akufo Addo goes to places he has something small to do, either cutting sod or commissioning a project. So if he has nothing of that sort in Bole, how will he come? "So let's not blame him for not coming and it shouldn't be a debate"; he said.
Mr.Sakara Mahama added that he remembered on an occasion when the Hon Regional Minister Mr. Saeed Muhazu was in.the studios of Nkilgi FM, he asked a very legitimate question. According to him the Minister said, he respects the people of Bole for the intellegent and world class people Bole has produced from traditional, academia, business and politics which can't be compared to any part of Gonjaland, the north and the country as a whole. His question then was, with all these class of people the traditional area has produced and nurtured to get to wherever they have gotten to, what have they done in return to the community for the support? According to Mr Sakara the Minister added that "with all these people we have, Bole township shouldn't be crying for basic things like AstroTurf which is just a peanut in the pockets of some people".
President Nana Akufo-Addo will be in the Savannah Region from 24th to 25th August, 2022 and the final day of the President's tour on Thursday, 25th August, 2022, includes a courtesy call on the paramount chief of the Wasipe Traditional Area; Wasipewura Mumuni Kabasagya to inspect the Agenda 111 and Regional Health Directorate.
The President will depart for Kusawgu to pay a courtesy call on the paramount chief of the Kusawgu Traditional Area; Kusawguwura Alhassan Soale Bonyanso II. This is making the people of Bole livid because the Agriculture Directorate for the Savannah Region is located in Bole.
Many are wondering why the President will not pass to Bole from Sawla and inspect the project but prefers to visit North Gonja District to inspect a similar project.
Source: nkilgifmonline.com