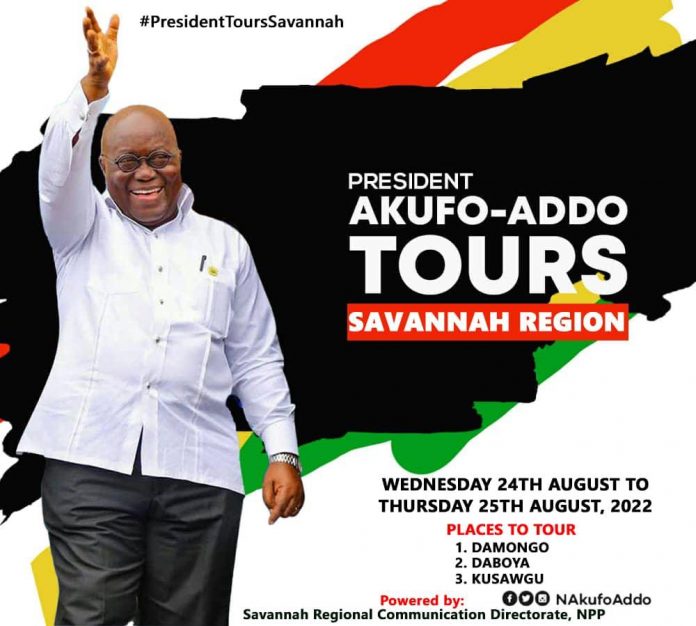 The New Patriotic Party (NPP) Communication Director for the Savannah Region Mr Fredrick Abukari Tahiru has said that no President from President Dr Kwame Nkrumah love the people of the Savannah Region than President Akufo-Addo because the people started agitating for a Region since the days of President Nkrumah but it took Akufo-Addo to create a Region for the people of the Savannah Region.
According to Mr Tahiru the visit of President Nana Akufo-Addo is the 8th since he became President and that he will is coming to inspect completed and ongoing projects his government initiated.
Speaking on Bole based Nkilgi on the two day's tour of President Nana Akufo-Addo to the Savannah Region from 24th to 25th August, 2022, Mr Tahiru said typical of most of the tours of the President, he will be inspecting and commissioning ongoing and completed projects in the Savannah Region.
The NPP Communication Director said the President will also pay courtesy calls on chiefs and as well, hold durbars of Chiefs and people in the Region.
He said on Wednesday, 24th August, 2022, the President will at 9:00am be at the premises of Radio PAD for a live interview and at 10:00am, the President will pay a courtesy call on the Overlord of the Gonja Kingdom, Yagbonwura Tuntunba Boresah.
He will provees to inspect the ARICOF project in Damango.l and later hold a durbar of 15 chiefs at the commissioning of the ultra modern Savannah Regional Co-ordinating Council Administration and the NHIA Regional Office at 2:00pm in Damango.
Mr Tahiru said later in the day at about 6:00pm, the President will hold a meeting with MMDCEs, NPP Regional Executives and Constituency Chairmen.
The Savannah Region NPP Communication officer said the final day of the President's tour on Thursday, 25th August, 2022 will take him to Daboya to pay a courtesy call on the paramount chief of the Wasipe Traditional Area; Wasipewura Mumuni Kabasagya at 11:00 in Daboya, after which the President will inspect the Agenda 111 and Regional Health Directorate.
He said the President will depart for Kusawgu to pay a courtesy call on the paramount chief of the Kusawgu Traditional Area; Kusawguwura Alhassan Soale Bonyanso II and then conclude his tour in the Savannah Region by inspecting the ongoing Bunjai-Fufulso Road.
Source: nkilgifmonline.com