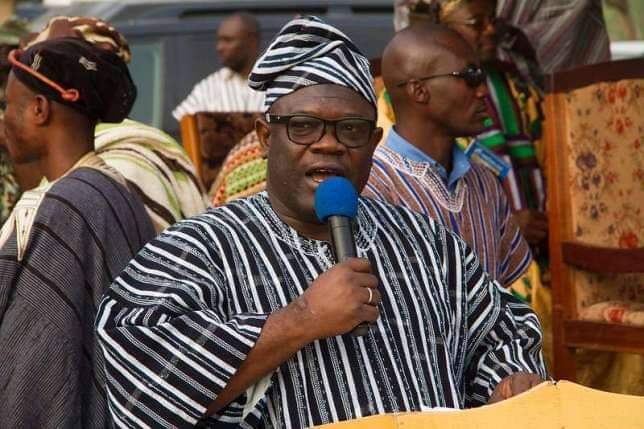 A former Minister of Food Agriculture under the Presidency of John Dramani Mahama, Alhaji Limuna Mohammad Muniru has lashed out at Ghana's Minister of Food and Agriculture Dr Afriyie Akoto accusing him of planting more bill boards across the country for his presidential ambition than planting food crops for the Planting for Food Jobs agricultural programme.
The former Minister was responding to a publication on the Day Break Newspaper of Thursday 21st July 2022 which said; "Nana Addo Beats Mills, Mahama In Agricultural Growth".
Alhaji Limuna described the publication as the biggest joke of the century by the New Patriotic Party (NPP) government which the people of Ghana should not take serious.
The former Agriculture minister explained that the reality on the grounds has exposed the 'cooked' figures used to show case the performance of the sector.
He said; "It is clear everything is on the decline in the sector, for instance food production in the country is on a serious decline as many farmers cannot afford the high cost of Agricultural inputs".
A bag of fertilizer which was less than GHc100 under the Presidency of John Dramani Mahama is today selling at almost GHc500 which according to the former minister is the highest amount ever in the history of Ghana that fertilizer has been sold.
He also mentioned the high cost of agricultural products in Ghana today under the NPP as an example of the many failures of the government and advised the government not to be playing politics with agriculture.
"I have always maintained that the Agriculture sector of the economy is so sensitive that we not been engaged in playing partisan politics with it"; Alhaji Limuna said.
Alhaji Limuna Muniru has since thrown a challenge to the minister to meet him one on one on any platform for a debate in the agricultural sector to settle the matter once and for all.
Meanwhile cabinet last mouth set up a five-member ministerial committee to investigate the high prices of food items in the country in order to advise the government on actions to take to level-off prices.
The committee of cabinet-rank ministers is to investigate and propose solutions for the pricing of food items to ease the burden on consumers.
Source: nkilgifmonline.com