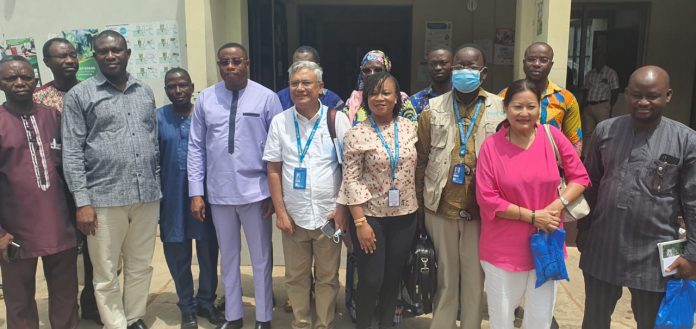 The Savannah Regional Minister Mr Saeed Muhazu Jibril on Thursday 20th July 2022, received a team from the United Nations Children's Fund (UNICEF) at the Savannah Regional Coordinating Council in Damongo.
The Chief field officer and leader of the delegation Mr Bhanu Pathak in his introductory remarks said the purpose of the visit according to familiarise with the minister and other heads of departments and by extension take him through their interventions; spanning from the past, present and those yet to be rolled out.

The team highlighted interventions they have chalked in diverse sectors which includes Health and Nutrition, Water, sanitation and hygiene, Education, child protection and social care, Emergency support and social behaviour change.

In the area of health according to the team, they initiated maternal and child health interventions which were successfully implemented in the West Gonja Municipal, Bole District and East Gonja Municipal.
Again, under Nutrition, Maternal Infant and Young Child Nutrition (MIYN) programme was successfully rolled out which according to them also impacted a lot of lives.

About 4000 school children in 16 schools benefited from borehole water which were drilled by their outfit. Over 6,250 children from 25 schools benefited from the institutional toilet component.

In the wake of COVID 19 when all schools were closed down according to UNICEF, they initiated the Ghana learning Radio programme and also added the Home-Based early Grade reading programme which was successfully piloted in six communities of Savannah region.

In the educational sector, the team stated that a lot has been established while they were implementing some of their projects in the past. In the future they have resolved to ensure equitable and inclusive access and also encourage quality learning outcomes.

Notable among other activities they mentioned include; their campaign to end open defecation free which is characterize by provision of loans to aide the locals and the vulnerable to put up household toilets.

They acknowledged providing technical support during the outbreak of Yellow fever in Savannah Region.

On a very serious note, they drew the Hon. Ministers attention to the possible infiltration of violent extremists into the Savannah region. Their assertion is attributed to the common borders Savannah Region shares with Ivory Coast and Burkina.

The Regional Coordinating Director, Mr. Yaw Adu Asamoah thanked the team for the numerous fascinating interventions by unicef but swiftly added that, they should scale up the inclusion of various departments in their sectors of intervention. That according to the RCD will help in achieving the expected results.

The Savammah Regional Director of Education also acknowledged how supportive unicef has been, but quick to add that they should increase their motivation packages for volunteers.

The Savannah Regional minister in his closing remarks acknowledged how supportive UNICEF has been even in his days as the Municipal Chief Executive (MCE) of the West Gonja Municipality.

On the issue of the possible infiltration of violent extremists, the minnister said the Savannah Regional Security Council (REGSEC) is working assiduously to put our borders on check.

The Minister added that, preparations are on going to ensure the road to Dollar Power is motorable. So that, suspected cases can easily be reported.

The regional health director, the regional health and Sanitation officer and the rep of the social welfare officer were with the Savannah Regional Minister in the meeting.

Source: nkilgifmonline.com/Habibu Muftawu