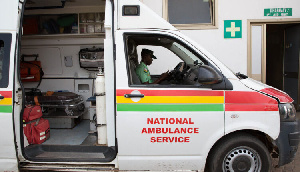 The Officer- In Charge of the National Ambulance Service at Damongo in the Savannah Region Mr Techi Yahuza has refuted claims they detained a patient referred to the Tamale Teaching Hospital from the West Gonja Hospital in Damongo at a fuel station for failing to pay for fuel for the journey.
Speaking on Bole based Nkilgi fm's morning show today 19th Juky, 2022, Mr Yahuza said the perception that the National Ambulance service charge patients before transporting them from one health facility to the other is not true and that usually people who need their services call the control office direct and they decide on what amount of fuel can transport a patient and so no station takes money directly.
Mr Yahuza further explained that Ambulance stations are usually given emergency fuel meant for Road Traffic Accidents but where the transportation of a patient from one health facility to the other is involved, relatives of patients are requested to support with fuel.
In the Damongo case he explained that they already had fuel for the Road Traffic Accidents and so at the fuel station the relatives of the patients were simply asked to top up fuel in order to maintain the fuel in the Ambulance.
A patient referred to the Tamale Teaching Hospital from the West Gonja Hospital in Damongo was allegedly on Monday 11th July, 2022 detained at a filling station by the Damongo National Ambulance crew on duty for failing to fuel the ambulance for the journey to Tamale.
Mr Awal, relative of the patient disclosed that he was charged GH¢700 by the crew as cost of fuel which he readily paid but upon reaching the filling station, the crew demanded an additional amount of GH¢200 before embarking on the journey which he pleaded with them to consider them since he had nothing on him.
He alleged the National Ambulance crew insisted that without the top up of the GH¢200, the ambulance will not move to the Tamale Teaching Hospital and therefore packed the vehicle containing the patient at the filling station awaiting the money before embarking on the journey.
Mr Awal said he spoke to them to drive to Tamale since he will be able to raise the money in Tamale.
He further alleged the crew upon reaching the Tamale Teaching Hospital packed the vehicle and insisted the money is paid to them before bringing out the patient which he Mr Awal through his brother organised for them.
Mr Awal indicated a token amount, according to his information is supposed to be topped up in every ambulance vehicle in referral cases which should not exceed GH¢600 but in his case, he paid GH¢900.
Source: nkilgifmonline.com