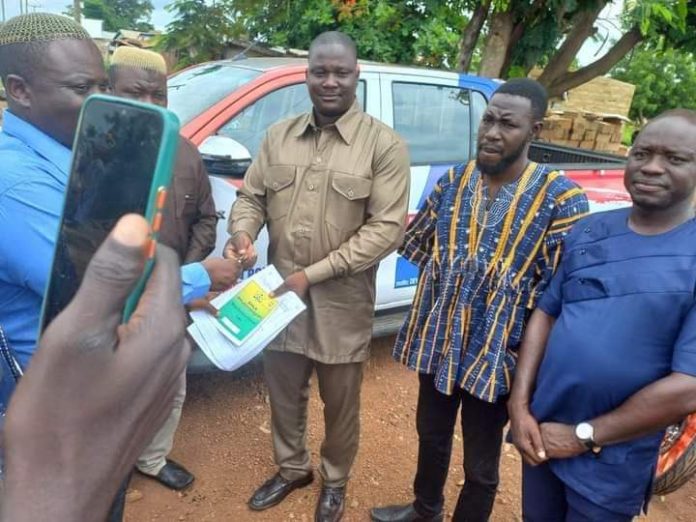 The Member of Parliament (MP) for the Damongo Constituency and Minister of Lands and Natural Resources,m Hon Samuel Jinapor has donated a brand New Toyota Hilux pick Up and 5 Apsonic AP 200-27 motorbikes to the New Patriotic Party (NPP) in the Yapei- Kusawgu Constituency to support the operations of the party in the constituency.
Presenting the car and motor bikes to the Constituency Chairman, the NPP Chairman for the Damongo Constituency Alhaji Adam Braimah said the donation was in fulfilment of the Ministers promise to donate pick ups to the NPP in all the seven constituencies in the Savannah Region during Savannah Regional delegates conference in Damongo.
The NPP Constituency Chairman for Yapei Kusawgu Constituency, Mr Issahaku Musah Mankpan lauded the continues support of Hon Abu Jinapor to the Yapei- Kusawgu Constituency over the years and promise to put the pick up and other logistics provided to good use to maximise votes and win the presidential and parliamentary elections in the Yapei-Kusawgu constituency for the first time in the history of the Constituency.
Mr Issahaku Musah Mankpan prayed for abundant blessing for the Damongo MP Hon Aby Jinapor and appealed for more support for the constituency to position the party in the largest constituency of Savannah Region to greater heights.
The Yapei Kusawgu Constituency Secretary of the NPP Mr Ibrahim Mahafuzu Sappor also thanked the MP for the Damongo Constituency for donating the pickup an motorbikes to the Yapei-Kusawgu constituency and that said the Pickup and the motorbikes will be lit ro good use.
Ibrahim Mahafuzu Sappor said the Damongo MP has been helping the NPP in the constituency and they thank him for that.
He asuired the Damongo MP that the NPP in the Yapei-Kusawgu constituency will.woek hatd to brawl the eight.
He said as the Damongo MP said, the Savannah Region will be the battle ground in the 2024 elections and the NPP in Yapei-Kusawgu constituency will be part of this battle.
Source: nkilgifmonline.com