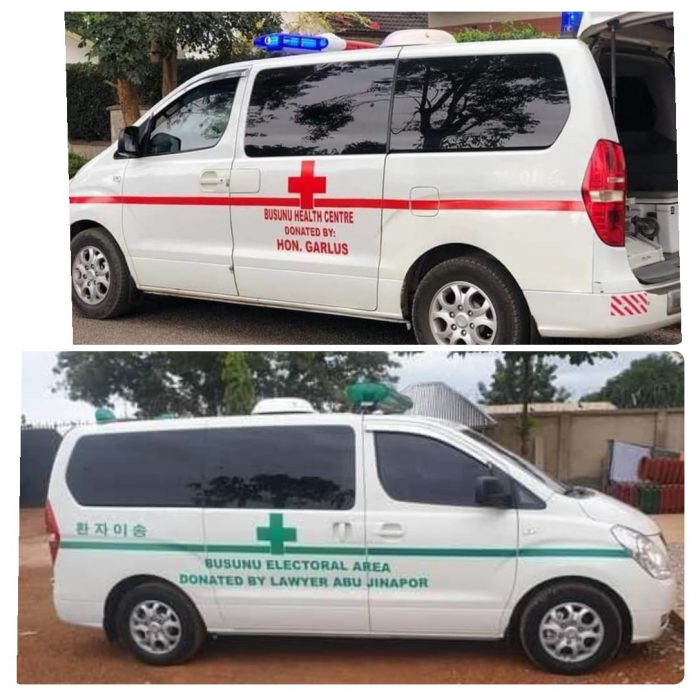 Two ambulances donated to the Busunu Health Centre in the West Gonja Municipality of the Savannah Regional by the former Member of Parliament (MP) Hon Adams Mutawakilu Garlus and curent MP Hon Samuel Abu Jinapor prior to the 2020 elections have broken down resulting in emergency transport of patients especially pregnant women and sick children under five become difficult.
Following the breaking down of these ambulances vehicles, community members resort to the use of motorcycles, tricycles and taxis in transporting obstetric emergencies and others sick clients to higher facilites for care.
The said ambulances include a Hyundai Starex with registration number NR-661-20 and a similar one with registration number GC 1709-20 donated by Hon. Samuel Abu Jinapor and Hon. Adam Mutawakilu respectfully.
The one donated by Hon. Adam Mutawakilu broke down few months after handing over and has since been off road. The other one donated by Hon. Samuel Abu jinapor broke down a month ago and has since not been maintained.
Sources indicate that, both ambulances were running free with support from the current and former MP until they broke down.
Speaking to Bole based Nkilgi FM, the Health Committee Chairman of the Busunu Health centre said both Ambulances broke down as a result of frequent shortage of fuel in the vehicles.
He however indicated that, attempts have been made to work on the vehicles especially that of Hon. Adam Mutawakilu but to no avail.
The in-charge of the health facility however indicated that, he and the Hon. Assembly member of Busunu informed the Aides of the MP for Damongo Hon. Samuel Abu Jinapor on the state of the vehicle he had donated and they promised to contact the current MP to help work on it but have since not heard from them. He pleaded with the Hon former and current MP's and other stakeholders to come to their aid to bring these vehicles back to road.
Source: nkilgifmonline.com