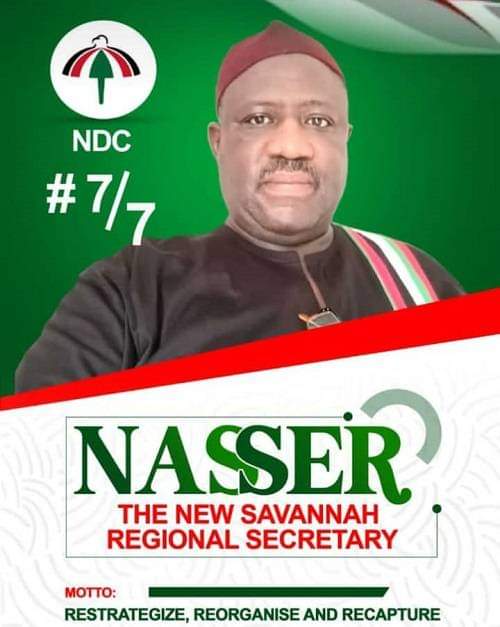 A surveyor and Engineer who is said to be eyeing the position of NDC Savannah Region Secretary Mr Adam Abdul- Nasser has denied being beaten to a pulp over alleged fraud at Tamale.
Mr. Adam Abdul- Nasser speaking on Bole based Nkilgi Fm's morning show on 1st July, 2022 denied reports from Kasapafmonline's report dated 30th June, 2022 that he was attacked by some people who claim he has allegedly defrauded them. According to the report Mr Adam Abdul Nasser was accused of allegedly engaging in the double sale of lands in the Nothern region and its environs and also selling lands that he has no locus on.
Kasapafmonline also said Mr Abdul- Nasser once tried to contest in the Madina constituency with Hon. Amadu Sorogho but was whisked away by the police at the Electoral Commission office on the day that he went there to file his nomination for allegedly defrauding some people.
The report further said for some years now, Mr Abdul- Nasser has moved from Madina and relocated to the Savannah region for another contest.
In a sharp response on Nkilgi Fm, Mr Abdul-Nasser Adam stated that the report is not only totally false, but wicked and malicious intended for a purpose known solely by the author and his conspirators.
He said, he was very hurt and demoralized upon seeing the now viral story first on Facebook and Whatsapp platforms, indicating that; "I have never ever in my entire life and for the 25 years of my practice as a land surveyor and owner of a land surveying and architecture consulting firm sold land or engaged in land transaction".
Mr Abdul-Nasser Adam said, he has formally reported the matter to the Cyber Unit of the Ghana Police for investigation but however, just after two hours after his attention was drawn to the false malicious publications he was able to track down the perpetrators of the write-up to some members of the NDC, who in a rebuttal to an earlier write-up he made about their Godfather on some issues wrote such falsehood about him.
He said, he has since collected their names and phone numbers with other evidences which has been made available to his lawyer to proceed to court on Monday 4th July, 2022 to charge the individuals of the purported story on charges of defamation of character, spreading falsehood on his personality and any deemed charges fitted to the accusations.
He said that, he was unable to sleep the whole night after the story went viral because, he was receiving countless phone calls from family and friends and even from other political party members to ask about his welfare and that, they were very surprise that individuals from his own party could come up with such a wicked and malicious story to tarnish his image
He said, "it's unfortunate that unscrupulous persons will use a picture of him taken over a year ago when he was not well with boils and receiving local treatment in Kpembe and write such falsehood".
Mr. Abdul-Nasser Adams added; "on Thursday, I held the 40 days Adua of my younger sister and there were many Salaga people including Chiefs in my house and they can bear testimony of my been well".
When asked if his ambition to be NDC Secretary for the Savannah Region could have lead to such a situation, Mr Abdul-Nasser Adam said he has never discussed that with anyone and nominations have not been opmed but "i can't be blamed if people are saying they want a change and if the position was not for competition, will people contest?"
Source: nkilgifmonline.com