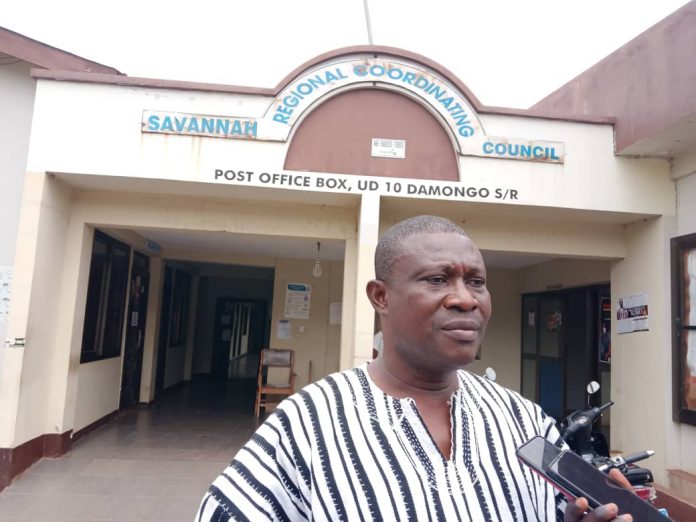 The Savannah Regional Health directorate has launched the fourth national Covid-19 vaccination days campaign in the Savannah Region.
Savannah Regional health director Dr Chrysantus Kubio in an address during the launch on 22nd June, 2022 indicated that the region has 41% of the people receiving the full dose is 41% with 51% receiving the second dose being 51% with the difference being 10%.
He disclosed that the Savannah region still has about 50% of the people not vaccinated in the nationwide Covid-19 vaccination exercise.
Dr Chrysantus Kubio said the disease is still with us in the country with the Savannah Region not being an exception.
He entreated the general public to especially the unvaccinated ones to get their jabs, adding that it is still free of charge to go for the jab.
Dr Chrysantus Kubio said the vaccination period is from 24th-28th June 2022 with vaccines readily available at the various schools ,health centers, etc with persons above 15 years including pregnant mothers eligible to take the jab.
He said again that the vaccines are safe, effective and reduce the Covid-19 diseases,its severity, prevent hospitalization and death.
Ghana currently has 1,311 active cases of the virus and has recorded 164,164 cases in total with 1,448 deaths.
Ghana has administered 16,752,032 doses of the coronavirus vaccine.
The Ghana Health Service has said there are 7.2 million people fully vaccinated, representing 22 percent of the population.
Over one million people have received booster shots of the vaccine.
Over 10 million people have received at least one dose of the vaccine.
Source: nkilgifmonline.com