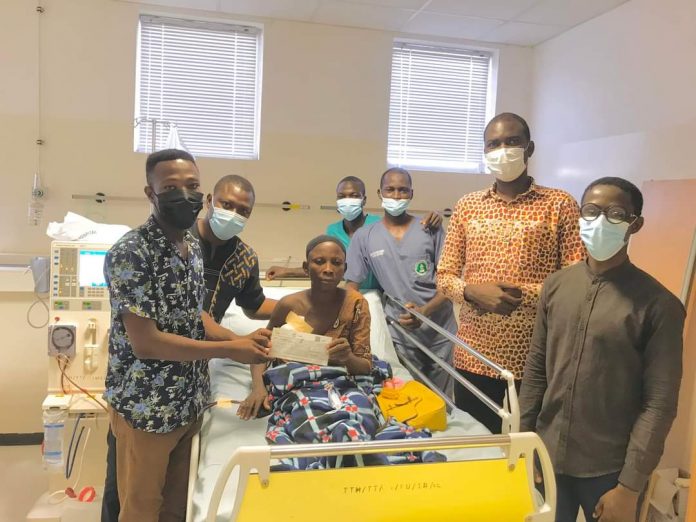 A Savannah Region based Non-government organisation Wipe- Away Foundation has donated an amount of GHc1,500 to Madam Fuseini Sakina who is a Kidney Patient at the Tamale Teaching Hospital.
Madam Fuseini Sakina, 59, was diagnosed with a Kidney Disease at the Tamale Teaching Hospital (TTH) and she has been on maintenance chronic dialysis since August 2021.
Madam Sakina's hemodialysis is currently performed three (3) times per week at a cost of GHc300.00 per session, for a total weekly cost of GHc900.00 and this is in addition to her regular medication, which can cost up to GHc900.00 per month.
On Friday, November 26th, 2021, Madam Sakina received a donation of one thousand five hundred Ghana cedis (GHC 1,500) from the humanitarian foundation led by its Public Relations Officer, Osman Abubakari-Sadiq.
The funds will be used to help her pay for dialysis treatments at Tamale Teaching Hospital.
She was grateful and thanked the donors through Wipe Away Organization for assisting her with funds since August, as well as wishing the foundation success in all of their endeavors. She also urged the public to help Wipe Away Foundation by making monetary and in-kind donations to enable them to continue their good work.
Wipe-Away Foundation has been covering the cost of her weekly dialysis through our door-to-door fundraising campaign in the Savannah Region.
The ultimate treatment for Madam Sakina's condition is a kidney transplant, which is typically performed outside of Ghana and costs between $35,000 and $45,000.
The PRO of Wipe-Away Foundationn Mr Osman Abubakari-Sadiq said they are grateful to all of their sponsors and donors and called for more donations.
Source: nkilgifmonline.com