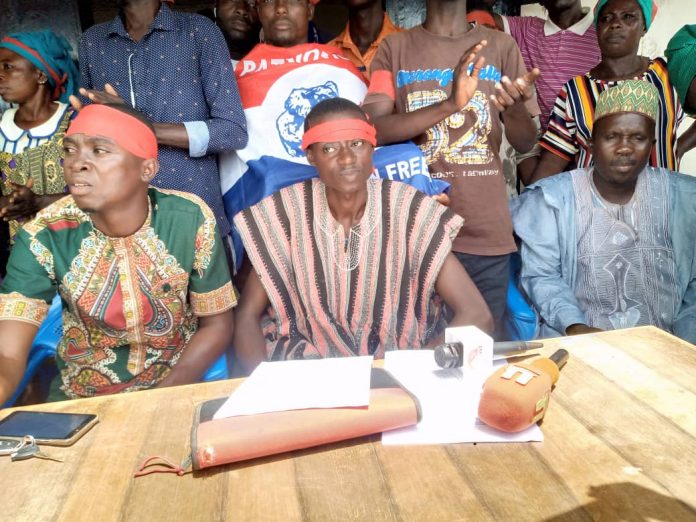 The Coalition of Aggrieved Foot Soldiers of the New Patriotic Party, a youth group in the Yapei Kusawgu Constituency of the Savannah Region is disappointed in a President Nana Akufo-Addo for not considering a single person from the Constituency for appointment in his government since 2017.
Addressing a press conference in Yapei on 13th September, 2021, the group stated that the Yapei- Kusawgu Constituency is endowed with well qualified and experienced men and women but has been totally ignored by President Akufo Addo since 2017 without a single appointment apart from the appointment of a District Chief Executive (DCE).
According to the leader of the group, Mr Tanko Malik, information gathered by the youth indicates that no one from the Constituency will be given any appointment despite their efforts in the 2020 Presidential and Parliamentary elections that saw the NPP retained power even though the constituency could not win the seat.
He said; "Even though, some of the competent, well qualified and experienced men and women in our constituency lobbied in 2017 and are still lobbying up to date, but the intelligence we have gathered so far is that they will not be appointed. These unfair treatments of foot soldiers and the men and women who have toiled for our party for almost three decades have dire consequences for the fortunes of our party in future elections".
Mr Tanko Malik added that the Savannah Region has so far had nine appointments with the Yapei-Kusawgu Constituency yet to get one.
"Are we not Ghanaians like those in other constituencies?"; Tanko Malik quizzed.
He added;
"Our constituency and, by extension, the District has equally qualified personalities to be appointed as CEOs, board members and other positions to drive home development but ask if we are even considered for any appointment by the president".
The group threatened that the youth of the area will advise themselves if the President and the party fails to address their concerns.
"Since 2017, no youth from the Constituency has been employed in any entity, neither has any of our leaders had any appointment yet we call ourselves party foot soldiers. What is our crime?"
In the 2020 general elections, the New Patriotic Party's Nana Akufo-Addo obtained 15,779 votes, representing 32.90 percent behind the NDC's John Mahama, who obtained 31,250 votes representing 65.17 percent.
Source: nkilgifmonline.com