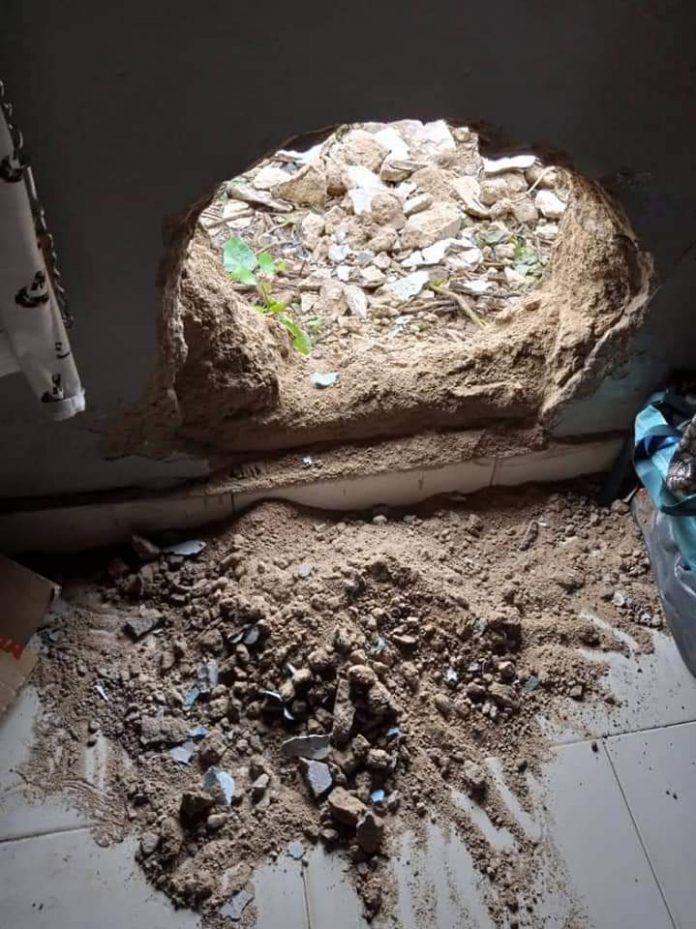 Thieves in Damongo took advantage of rains in the early hours of 4th August, 2021 to break into three different shops at the same location. Even though the shops are at the center of the town and surrounded by many houses people were indoors as at the time of the operation.
The thieves made away with valuables and cash amounting to several Ghana Cedis during the operation.
The three shops which are in the same building and following one another are located at the Damongo town park on the way to Tamale.
A provision store owned by a Tutor at Ndewura Jakpa Senior High School, Mr Gbolo Braimah popularly known as Gambo was operated on.
The criminals broke through the back of the shop by making sure the succeed in creating a hole by breaking the blocks to gain access into the shop.
Mr Gambo's money that he made after selling for the day, money that his vehicle that operates with the Nasara VVVIP lorry station had made amounting to several Ghana Cedis in addition to provisions such as Milo, Nido, ideal Milk etc was stolen through the hole created by the criminals.
Next to Mr Gambo is the ever popular Premier Boutique in Damongo where a similar tactics and method was used to gain access into the boutique.
Clothes including jeans, ladies wear and a cash amount of money was stolen from the shop through the same hole creation at the back.
One of the oldest drug store store popularly known as the Kofi drug store next to Premiere Boutique was their next point of operation but for reasons best known to them, after making attempts to break through, they left.
According to one of the owners of the shops, some of the money stolen especially the smaller denominations were left scattered at the back of the shops.
A formal complain has been lodged at the Damongo Police Station with no arrest made so far.
It will be recalled that on the same vicinity some years back, thieves entered into a shop, made away with clothes etc in a bag but left the booty at the then A.Y transport and absconded.
Source: nkilgifmonline.com