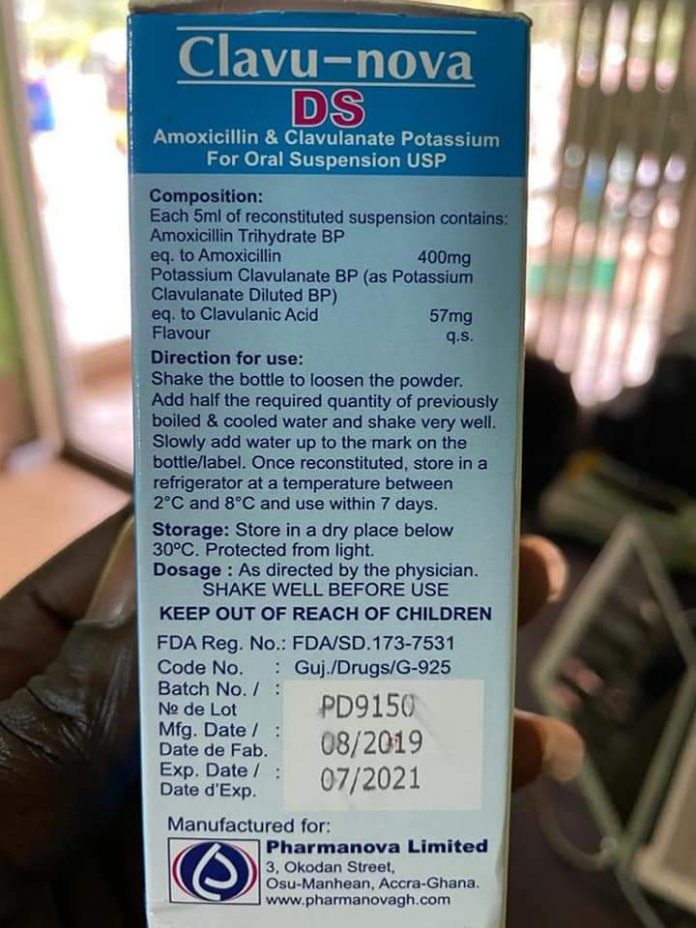 A young man in Bole called David Ansonwin has alleged that the Bole District Hospital administerd expired medicine to his child who was admitted and discharged at the Bole District Hospital on 24th July, 2021.
Speaking to Bole based Nkilgi FM today 28th July, 2021, David Ansonwin who is the Manager of Sadiq Motors in Bole said his child was discharged from the Bole Hospital on 24th July, 2021 and an expired medicine was given to them because it indicated expiry date as July, 2021.
He said the colour of the 70 ml Clause Nova DS (Amoxicillin Clavunalate Pattasium for Oral Suspension USP) changed and so his wife decided to check the expiry date and realised the drug indicated expiry date as 07/2021.
He said they have already given some of the medicine to their child who is very sick and innocent and further asked why the Bole Hospital will administer an expired drug for his child to take and die.
Meanwhile Nkilgi fm visited the Bole Hospital today 28th July, 2021 and met with the Medical Superintendent Dr Nindow Alphonses who said that is not true.
He said the expiry date on the drug in question is July, 2021. He said; "it means that drug will expire in July, 2021 and so up to 31st July, 2021 the drug has not expired".
Dr Alphonses further explained that " the person came to the Bole hospital on 24th July, 2021 and was given Medicine on 31st Juky, 2021 at the time the medicine and so at the time the medicine was given to the patient, the medicine had no expired and even as today 28th July, 2021 that Nkilgi fm.os examine to me the medicine has not expired
The Medical Superintendent at the Bole District Hospital concluded by stating that; "there is no way the Bole Hospital will give out drugs that are expired to clients..we cherished our clients and we are there for the patients and we want the best for them. The person who is providing the information didn't understand information in expired medications".
Many people consider the month indicated on drugs as the beginning of the month the drug has expired.
Source: nkilgifmonline.com