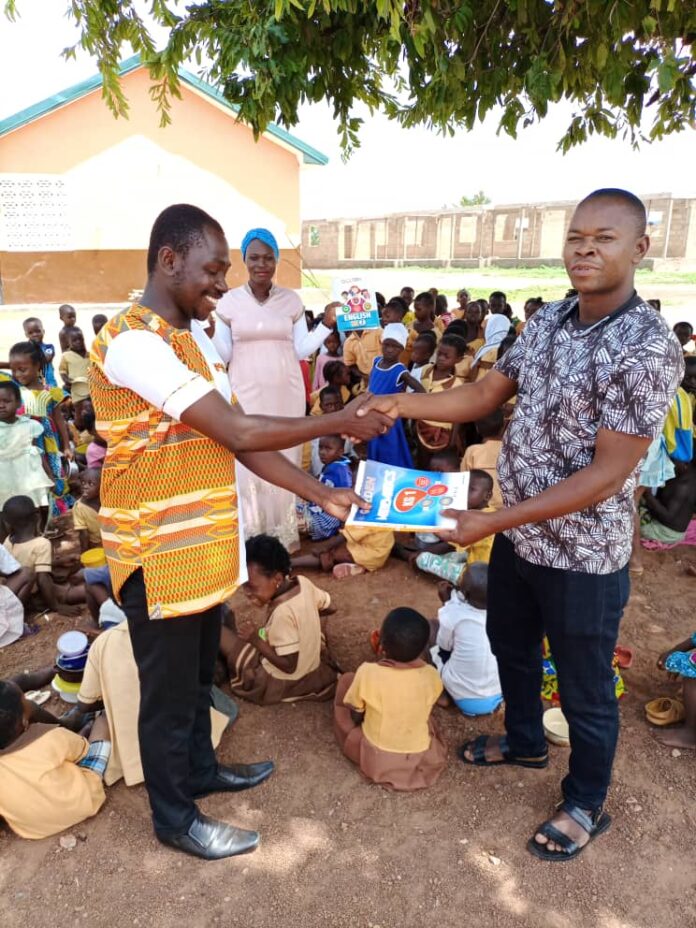 The Assemblyman for the Larabanga electoral area, Hon Amidu Karim popularly known as KK has donated sets of textbooks to the Larabanga English and Arabic (E/A) Primary School at Larabanga in the West Gonja Municipality of the Savannah Region on 3rd June, 2021.
Hon KK made the donation after he visited the school earlier this year and recieved the complain of lack of textbooks by the teachers of the school which is affecting teaching and learning in the school.
Hon KK through his own efforts bought the books ranging from the Kindergarten level to Primary 6 and in all the subject areas to help the teachers teach effectively.
Speaking exclusively to Bole based Nkilgi FM, the assembly member said he was voted to help in the development of the area and the best way to develop is through education.
He said it is not all the time that the government can swiftly attend to the needs of the community and therefore urged people far and near who can help in the development of the area to immediately help especially in the area of education since the future of Ghana and for that matter is perched on education.
He also appealed to NGOs and philanthropists to help his electoral area and other areas by bringing development to the doorsteps of the people especially in the area of education.
He mentioned again that he saw how many of the kids are without chairs and sits on the bare floor to study which he is working around the clock to solve by donating tables and chairs to the school.
He further disclosed that the donation will not be limited to only the primary school but other schools in his electoral area including the newly constructed Larabanga Islamic Senior High School.
Assistant Headteacher of the Larabanga E/A Primary School Mr Yakubu Yussif on behalf of the headmaster and the Parents Teacher Association (PTA) thanked the Hon Assemblyman for the kind gesture done the school. He said the books will help them to deliver very well in terms of teaching and urged other bodies to emulate what the Assemblyman has done especially in the area of furniture since that is another major problem facing the school.
It will be recalled that the Hon Assemblyman personally financed the dredging of the Larabanga community dam earlier this year.
Hon KK as he is popularly called is noted even before his election as the Assemblyman for the area was involved in many developmental activities in the area.
Source: nkilgifmonline.com