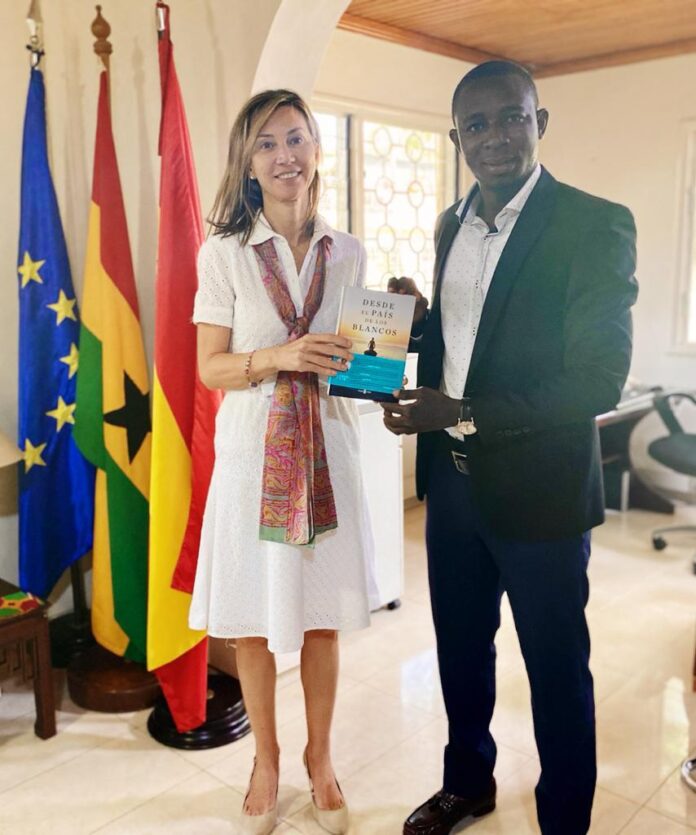 Mr Banasco Seidu Nuhu the Co-Founder and Executive Director for Nasco Feeding Minds, a Non-Governmental organisation (NGO) located in Sawla-Tuna-Kalba District of the Savannah Region in a meeting with the Spanish Ambassador Her Excellency Alicia Rico Perez on the 5th of May, 2021 discussed a new project partnership support in the efforts of the NGO in environmental activities.
Over the years Nasco Feeding Minds has ventured into greening the ecological zone of Sawla -Tuna- Kalba District by embarking on planting several acres of economic tress such as mango's, Cashew and so on across the entire District to support the Ghana Government to fight against the depletion of the vegetative cover due to the activities of illegal logging of tress for commercial charcoal burning, which has been a major menace for the Government.
The Spanish Diplomatic Community recognised Nasco Feeding Minds which champions Information Communication Technology in many Schools in the Sawla-Tuna-Kalba District as one of the most prestigious NGO's in Ghana that impacts positively in the development of the human resources of the People and the District as a whole.
Hence, the recognition by the Spanish Diplomatic Community led by the Spanish Ambassador Her Excellency Alicia Rico Perez to continue to partner with the organization to plant about five thousand tress in the Sawla-Tuna-Kalba District.
At the meeting with the Spanish Ambassador, Mr. Banasco Seidu Nuhu who is the Co- Founder of Nasco Feeding Minds and was the New Patriotic Party (NPP) Parliamentary candidate in the 2020 election for Sawla-Tuna-Kalba District presented two books authored by Mr Ousman Umar to the Spanish Ambassador, Viaje Al Pais De Los Blancos (Trip to the land of the whites) and Desde El Pais De Los Blacos (Living in the land of the whites).
Speaking to Bole based Nkilgi Fm, Mr Banasco disclosed that, there will be a major focus on economic activities especially, investment in the Agriculture sector since the District is blessed with vast arable lands for the cultivation of Cereals, Fish farming, Bee keeping which Nasco Feeding Minds has already started and the Organization will help enhance and unveil to the world the tourism potentials in some Communities in the District which has huge tourist sites in the District that needs to be developed to attract tourist.
He mentioned the Kumalsa Crocodile pond in Kumalsa which has long been forgotten by various stakeholders in the tourism industry.
Due to these Projects and more, the Spanish Ambassador who represents Spain will be awarding Nasco Feeding Minds for their immense humanitarian work and as well donate some items to aid the Organization.
It will be recalled that, the founder of the Nasco Feeding Minds, Mr Ousman Umar, a Ghanaian from Sawla-Tuna-Kalba District who resides in Spain was awarded the Princesa de Girona Social Foundation Award 2021 in Spain, a prestigious award from the King of Spain.
The award was in recognition for Social Entrepreneurship and Educational transformation, precisely the entity founded by Mr. Umar is dedicated to "uniting education, technology and alliances" to "provide solutions to the migratory phenomenon", in regards to "preventing children from "becoming the immigrants of the future" for "lack of opportunities."
Source: nkilgifmonline.com