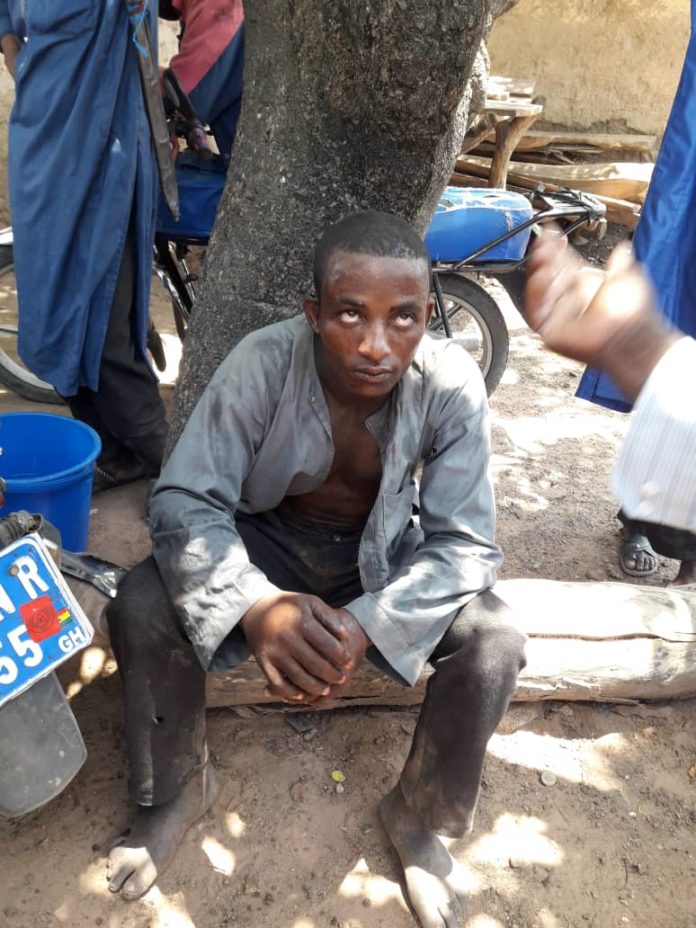 A suspected Armed Robber and Kidnapper Bukari Fulani has been arrested at Kededilenpa near Busunu in the West Gonja Municipal on Saturday 28th March,2020 after he and two others succeeded in kidnapping a man believed to be in his late forties.
Narrating the events at the Busunuwura's Palace, Siita Sudi the victim who was kidnapped said he was contacted to transport a woman named Balchisu from Kedendilenpa to Busunu.
Upon reaching a stream known as Bonyan, three Fulani men from the bush ordered him to stop, which he obliged. The three Fulani men in the process started molesting the woman but later freed her and then took a fastened innocent Sudi with them  deep into the bush. 
Sudi in a narration at the Busunuwura's said by midnight, all the three persons fell asleep after he overheard their plan of extorting money before his release, a robbery plan next monday and other dubious activities. "Allah being so supreme, I escaped"; he said.
Balkisu after reaching home narrated to her paternal uncle and others their inauspicious journey amidst tears which led to the tracing, tracking and the big chase that led to the two suspects escaping.
One of suspects Bukari Fulani was apprehended and brought to the Palace of the Busunuwura who later  handed him over to the Busunu Police and is expected to be transferred to the Damongo Municipal Police command pending investigation.
Source: nkilgifmonline.com/ Zion Abdul- Rauf