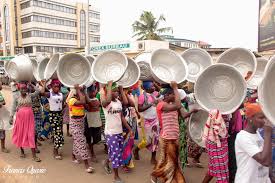 Hundreds of young ladies mostly 'Kayayei' (Head Porters) from Kumasi, Accra and other parts of Ghana are trooping to their native towns and villages in the Savannah Region following the President's partial lock down of Accra and Kumasi.
Bus loads of this young ladies are seen disembarking from buses in most parts of the region.
At Busunu in the West Gonja Municipal, three buses on Friday 27th March, 2020 fully loaded with beautiful young ladies were seen cutting through to Daboya in the North Gonja District of the Savannah region.
The Regional capital of Damongo equally witnessed bus loads of these girls being off loaded with KIA trucks conveying them to the Murugu-Mognori areas.
Some residents of the communities these young ladies hail from are expressing fears as non of this ladies have gone through testing since where they are coming from especially Kumasi and Accra that will be partially locked down today according to the directives of the President as a result of the Coronavirus outbreak.
Source: nkilgifmonline.com