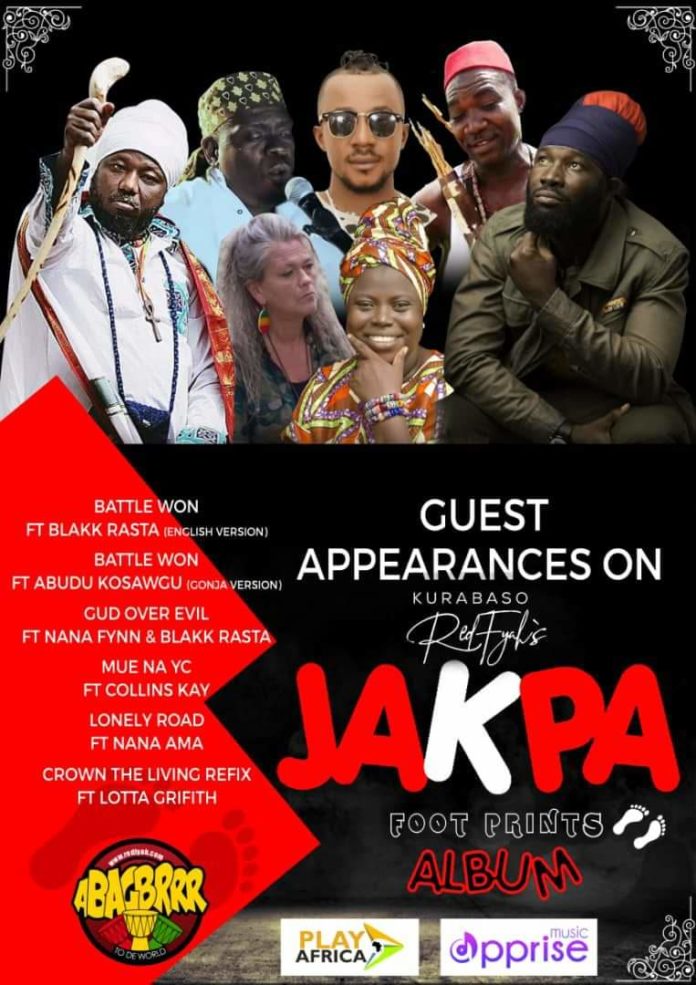 Fans worldwide of Multiple Award winning Reggae Artist Kurabaso Redfyah are anxiously waiting for his Album titled 'Jakpa Footprint (JFP)' which is set to be released on the 18th of April 2020.
Kurabaso REDfyah's Jakpa FootPrints Album is well-seasoned with a heavy-weight guest spice pack that adds a great deal of variety to album's tracklist. Jakpa FootPrints' guest appearances are a cleverly select-few artistes whose craft contribution was fore-considered befitting for the very song they were chosen to voice on.
Having Blakk Rasta, Nana Fynn, Nana Ama, Lotta Griffiths, Abudu Kusawgu and Collins Kay on Jakpa FootPrints does not only make the album a legend masterwork but also makes the album one that would serve its launch audience a truly euphoric live musical performance treat that leaves a lifetime memory as these artistes are among their genre's living greats.
Kurabaso REDfyah's Jakpa Footprints album is laced up with 21 tracks, but on its cut-aside guest appearance sheet, the album has among others:
1. Good Over Evil featuring BLAKK RASTA and NANA FYNN
2. Lonely Road featuring Nana Ama Crown
3. The Living featuring LOTTA GRIFFITHS
4. Battle Won [Gonja Version] featuring ABUDU KUSAWGU
5. Battle Won [English Version] featuring BLAKK RASTA
6. Mue Naayo featuring COLLINS KAY
All the Jakpa Footprints' feature artistes are Ghanaians except Lotta Griffiths, a Sweden. Lotta Griffiths and Blakk Rasta are reggae artistes, but Nana Fynn and Collins Kay are Hi-Life artistes while Abudu Kusawgu is a traditional world music artiste and Nana Ama is a gospel artiste who experiments across all genres [being a universal backvocalist].
Blakk Rasta doubles as renowned radio reggae presenter with a over decade practice period. Blakk seldom sings, he is mostly inclined to musical poet.
With his nationwide popularity in Ghana and being multiple award winner atop a tall list of strong releases and a court suit history of a mild political altercation with Ghana's politicians or the nation's parliament which cost him a 3 year lay-off break from radio practice, Blakk Rasta can't be left out at mentioning of Ghanaian reggae artistes who have fought for the genre's survival in Ghana.
Blakk Rasta is ranked among the few great reggae artistes in Ghana and even in Africa. His song "Barrack Obama" become a great hit in Ghana and in other countries. He later met Barrack Obama when the then American president visited Ghana.
LOTTA Griffithsas one of the very few female artistes in Sweden's reggae space and being able to cross over to Africa to earn multiple collaboration requests from the continent, it's a clear telling that Lotta Griffith's work has won a growing foreign recognition. Lotta Griffith's song "My Happiness" is a loud buzz. The piece has been received as a signature track which most fans identify her with.
NANA Fynn is one of the highly respected Hi-Life artistes in Ghana. He is relatively a prolific hitmaker among his contemporaries. His timeless piece "Odo Hankerchief", though is over a decade old, still enjoys close to a weekly radio traction nationwide. Nana Fynn, is by far, a unique Hi-Life performer with a voice that has no reminder rival. Being versatility with the easy ability to jump on reggae and AfroBeats beats, Nana's musical has a beautiful youthful flair and he can sing for all ages and every social class.
NANA Ama is ranked among the grand female backvocalists who have backed a great count of Ghana's top and mid-belt artistes, Nana Ama is worthy of a national icon celebration as deep as her musical pedigree goes. More like a first stop studio contact when it comes to a search for a seasoned backvocalist with an indepth practical singing skills, Zapp Mallet would recommend Nana Ama. The two have worked for over a decade.
NANA Ama recently ventured into lead singing, taking a detour outside backing, but she is in the backing business with a little time for lead singing as a sole performer. She really has not released even close to a dozen songs, but she has backed over 100 songs in her career as a backvocalist.
COLLINS Kay is an interesting stage thriller, as a master of cover songs playing at parties, durbars, festivals, carnivals, funerals and other events. Collins Kay has been with Kurabasu REDfayh for years working with REDfyah's ABAGRRRRRR band as a backvocalist.
Aside backing, Collins has sole releases, being an indie artiste. He is also a contract composer constantly being hired by other artistes to assist them with their compositions.
ABUDU KUSAWGU is a master in Gonja Music with immense popularity in the area. Considering the commercial power in his circulating songs like Aguro Momoni, Kasawule Ewu Anyi and Ambage, Abudu Kaswgu is foreseen as a great traditional music artiste who has the potential to make great international inroads in a few years if he keeps in the trend he has blazed for his career and still cooks his music with timelessness in mind.
Abudu Abudu Kusawgu works a world music ensemble. He combines pleasing African rhythms, catchy melodies and dance-inducing elements for his works. Boredom has no place in the atmosphere when taking a listen to Abudu's songs, they either make you happy or extra happy.
nkilgifmonline.com/ John Ansah aka Regular Rebel