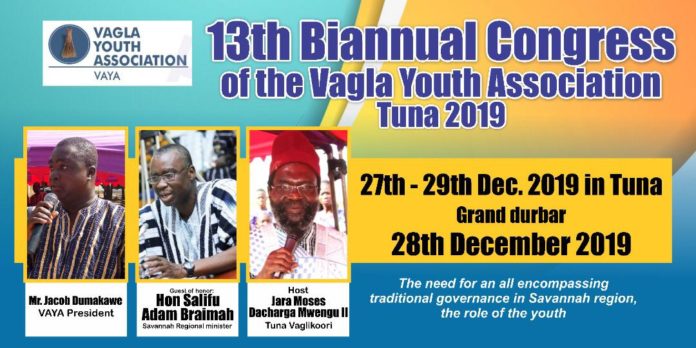 The Vagla Youth Association (VAYA) will this year hold its 13th biannual congress at Tuna in the Sawla-Tuna-Kalba District of the Savannah Region.
The three days congress is under the theme; "The Need for an All-Encompassing Traditional Governance in Savannah region, the role of Youth Associations".
The Comgress is slated to take place from Friday 27th to Sunday 29th of December 2019 with Hon. Salifu Adam Braima, the Savannah Regional Minister as Guest of Honour.
VAYA is the Youth Association for the Vagla, the Safaliba, the Nomee and the Choroba ethnic groups of the Bole Traditional Area in the Savannah region of Ghana.
This year's congress being the first in the newly created Savannah region is expected to draw members of the association, Chiefs, elders, women and other residents in the area and beyond to Tuna.
Speaking to Nkilgifmonline.com the Public Relations Officer (PRO) of the association, Mr. Richard Forgor said preparations for the congress are far advanced. According to him, patrons will arrive on Friday 27th December and be treated to traditional dances throughout the night adding that young musicians of the area will entertain people till 11pm when the traditional dances will start.
Mr Forgor said a grand public durbar of the Youth, Chiefs and people of VAYA communities and the general public will be take place tomorrow Saturday 28th December, 2019 where the Regional Minister together with members of parliament, District Chief Executives (DCE's) and people from all walks of life including sister associations will join patrons in Tuna to celebrate.
He said;"This is the year of return and so we are expecting all our people all over Ghana and beyond to return home for this congress, we see this as a home coming".
The association is inviting all residents of the Bole traditional area and beyond to join them in Tuna and celebrate the unity and Culture of the Vagla, Safalba, Nomee and Choroba people.
Meanwhile the Vaglakoro (Vagla Chief) of Tuna Jarah Dachariga Mengu celebrates ten (10) years of his reign as Vaglakoro of Tuna.
As part of the celebration the Vaglakoro of Tuna will have a meeting with other Vagla Chiefs on Sunday 29th December, 2019 to discuss issues of development.
The Vaglakoro of Tuna is known for the strides made to develop his people in areas of Education, Health and the Empowerment of his people as well as his fiery desire to eradicate poverty among his people.
Source: nkilgifmonline.com