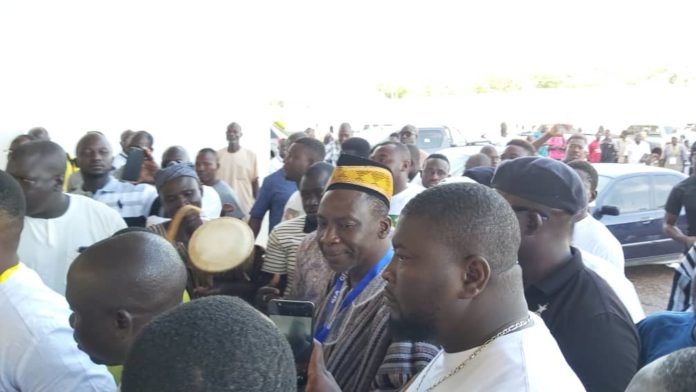 The Tamale-Daboya based Alhaji Abu-Hassan also affectionately called Rhyzo has been elected as Chairman for the
Nothern Regional Football Association at the just ended extraordinary Congress 2019.
Out of 64, Alhaji Abu-Hassan Rhyzo had 41 votes, Mr. Karim Umar Farouk had 22 votes and 1 spoiled ballot.
Alhaji Rhyzo in a brief address thanked the delegates and the entire team for the support. "This is the time to transform football in the North and I will need each and everyone of you to accomplish this goal" says Alhaji Rhyzo.
Who is Alhaji Rhyzo?
Alhaji Rhyzo in the earlyChairman for the
Nothern Regional Football Association years his life saw him played for Great Eagles and Hearts Babies Colts Club in Tamale in the mid 70s and early 80s.
In his days in Ghana Secondary School (Ghanasco) in Tamale got him as a star player in the school team with much determination and sterling performance demonstrated in the 80s.

He continued his football career at the Club level and played for Bimbilla Nanumba United, Kpandai Soccer Millionaires and Oguaa Hall at the University of Cape Coast during Rolle games.
The last team this gentle football legend from a humble played with before hanging his football boots was Salaga Jakpa Warriors.
The Daboya born young player was also the Chief Executive Officer (CEO) with Lepowura Alhaji M N D Jawula as President for the Division One side of Guan United for several years.
The football lover and the one time practicing young footballer then of our dear home the Northern Region Alhaji Rhyzo currently owns a Division Two side Zanwara FC FC in Tamale
His passion and love for football at the very beginning of his life as a result saw him being very supportive to the Daboya Wasipe United and other Clubs in the Northern Region.
The Chairman elect is presently the Northern Regional Supporters Chairman of Accra Hearts of Oak.
Source: nkilgifmonline.com