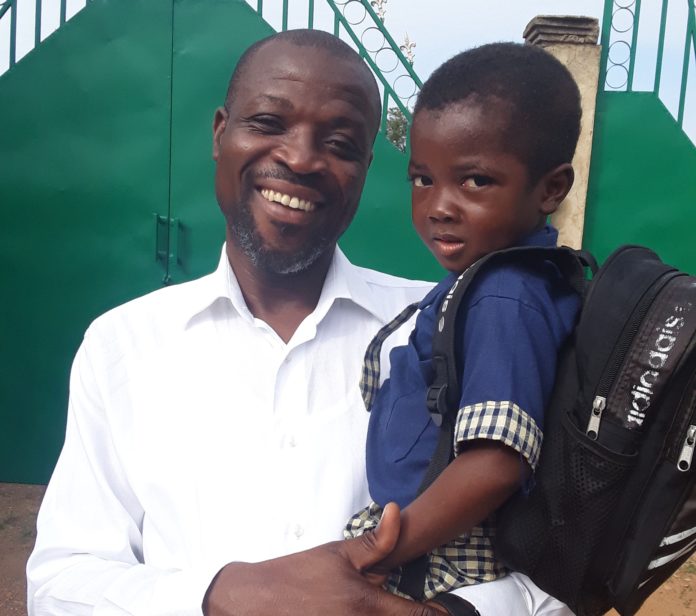 A four (4) year old boy at Paga in the Upper East Region of Ghana who almost lost out of schooling due to his mother's inability to pay for his fees can now go to school at last.
The boy (name withheld) lives with only his mother and two year old sister. His mother takes care of him and his sister with the little she earns as a labourer at a local bakery in Paga.
But the boy who until now was not in school had been considered to be highly intelligent by many people. According to accounts by Mahama Haruna, Manager at Nick TC –Scan at Paga, anytime he went to buy bread from the bakery he noticed that the boy was always reciting alphabets or counting numerals as well as doing things children in school do.
Moved by the boy's level of brilliance, Mr. Haruna who is a native of Bole in the Savannah Region decided to make some enquiries about his level of education but was surprisingly told he was not schooling. Stunt by what he discovered about the boy, he asked his mother how come he could recite alphabets but he was told the boy learned it from his peers who were schooling.
Having also uncovered that the boy, his mother and sister were not privileged enough like other families to be able to adequately fend for themselves, Mr. Haruna decided to enrol the boy in one of the best private schools in Paga.
Besides, Mr. Haruna sewed new uniforms, bought pairs of sandals and schoolbag for the boy as well as paid for one month canteen services in the school to enable him enjoy lunch.
In a facebook post on Wednesday October 30, 2019, he wrote: "I went to one of the best private schools in Paga one day, took a form and paid the school fees of the boy in full and later sewed school uniforms, bought a school bag, two pair of sandals and on top of all provided one month feeding fee so that the mother can take over after the one month elapses.. I further promised to pay the boys school fees every term insha Allah till I can no longer pay".
Like in Bole and other districts in the Savannah Region, the good deeds of Mr. Haruna are also beginning to spread like wildfire in Paga and its surrounding communities. He does not go about telling people about his acts of generosity towards others but anytime he helps someone in need, the beneficiaries usually go to inform other people to thank him on their behalf.
"I never told anyone what I did but I later realised a few people got to know and began thanking me on behalf of the mother of the boy even though I'm not always enthused… Just yesterday a man stopped me while going to buy credit in a nearby shop to thank me and to tell me all my good deeds in Paga are known. I was surprised he told me I'm the only one he knows that brought a company to Paga with my many workers and then employed fully 5 people from the area who are now making a living from the work", Mr. Haruna disclosed in his post.

Who's Mahama Haruna?
Mr. Mahama Haruna is a trained teacher and journalist. Besides being an employee of Nick TC – Scan, he is also General Manager of Bole-based Nkilgi FM; the most listened to radio station.
Through Nkilgi FM and its online platforms, he has been able to solicit for financial support to help those in need of emergency medical assistance, school fees and other needs.
His ability to mobilise people to support a just course or push for the implementation of transformational or people-centred initiatives in his hometown and for that matter the Savannah Region saw him being voted for as one of "The 100 Most Influential Personalities From Northern Ghana" in 2019.
By SavannahNewsOnline.Com/Philip Liebs