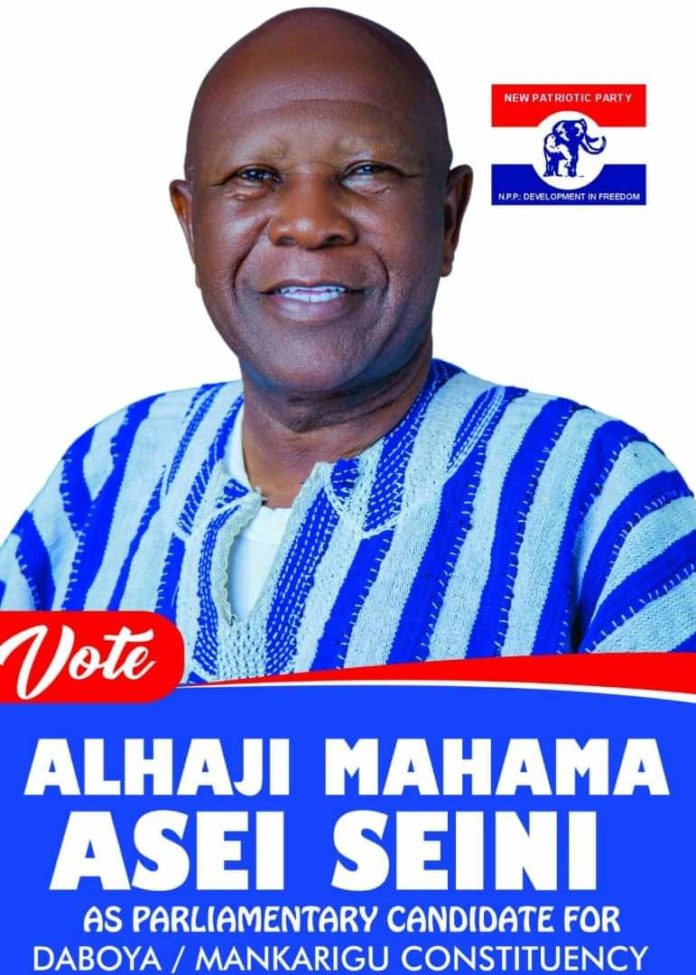 Alhaji Mahama Asei Seini, who is gunning to win the parliamentary primaries of the New Patriotic Party (NPP) in the Daboya/Mankarigu constituency in the northern region has parried allegations that he stabbed former President John Mahama in the back by joining a different political party.
Alhaji Mahama Asei Seini, who is a serving senior customs officer admitted in a telephone chat with Ghancrusader that former President Mahama indeed helped him at a point in time in his life.
"Oh yes. John Mahama is my cousin. We are brothers. When my problem came, I went to him when he was vice president. He intervened and I was reinstated into Customs.
"He was vice president for all Ghanaians, not only for NDC members. I am a citizen of Ghana, if I have a problem or injustice done to me, his office is a public office I can approach. He took an oath to serve all Ghanaians, to be fair to all."
He added, "I didn't stab or betray John Mahama. I am not an NDC man. I am NPP. My brother, all of us can't be in the same political party. Take Abu Jinapor and John Jinapor for example. Are they all in the same political party? No. We are all seeking to build our country irrespective of political party affiliations. So let's rise up together. Even my brother John Mahama himself told me that we can not all be in the same political party."
On why he has not resigned from the Ghana Customs Excise and Preventive Service (CEPS) before joining the NPP parliamentary primaries race, Alhaji Mahama Asei Seini explained that he has not filed yet as a confirmed parliamentary candidate to the Electoral Commission.
"This is an internal primaries. The Supreme Court ruled on this matter long ago. The decision is there for all to check. Civil and public servants have a capping as to when they have fully joined frontline politics. So if I win the primaries and go ahead to file at the EC, I can now resign from the service," he expatiated.
Alhaji Mahama Asei Seini, who has served in CEPS for 35years, disclosed that he is due to retire from CEPS by July next year and will not hesitate to do that if the time is ripe.
He contested the NPP parliamentary primaries in the Daboya/Mankarigu constituency in 2004 but lost. Alhaji Mahama made a shot at it again in 2008 and won. He however failed in the general election by losing to the NDC candidate.
He is now staging a third attempt to enter parliament.
"This time, I am coming back with a bang. I want to serve my people. My people need a visionary, vibrant leader to lead them in opening opportunities and to create jobs, provide basic social amenities and uplift their living standards," he said.
Alhaji Mahama Asei Seini, is challenging to dislodge his uncle, Mahama Shaibu, who is the incumbent Member of Parliament for their area.
"He is my uncle. He knows am beating him. I am winning," he said passionately.
The NPP holds vetting of the parliamentary aspirants tomorrow in the constituency.
Source: www.ghanacrusader.com