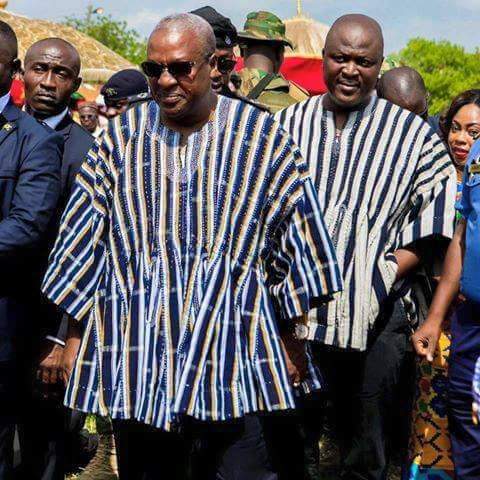 The Flagbearer of the National Democratic Congress (NDC) and former President, John Dramani Mahama was scheduled to visit the Savannah Region this week. The visit which was supposed to start tomorrow Tuesday 13th August 2019 and end on Wednesday,14th August 2019 has been changed to next week Monday 19th to Tuesday 20th August, 2019.
No reason has yet been given for the change of date but in recent times President Nana Akufo-Addo and Former President John Dramani Mahama appear to be 'coincidentally' arranging their tours of the country such that when one visited a region, the other followed suit.
It will be recalled that they recently toured the Western and Western North Regions and engaged in arguments over the plight of cocoa farmers in the area.
President Nana Akufo-Addo is expected to be in the Northern region for a two-day tour from August 15th to 16th August, 2019 to cut sod for the second phase of the Tamale International Airport project and this date has coincided with period former President John Dramani Mahama would have been visiting the North East Region of Northern Ghana.
Meanwhile the itinerary of the former Presidents visit to the Savannah Region has not changed. He will touch down at the Tamale Airport in the morning of Monday, 19th August 2019 and move straight to the Central Gonja District where he will visit Debre and Mankpang and from there move to the West Gonja District and visit the King and Overlord of Gonjaland Yagbonwura Tuntumba Boresa at the Jakpa Palace at Damongo.
After paying homage to the Yagbonwura the former President will be at the Damongo Lorry park to inaugurate all the Regional Committees of the NDC and then move to a site to cut sod for the construction of an ultra- modern Regional office for the NDC in Damongo and after that proceed to Larabanga where he will meet the people.
From Larabanga the former President will move into the Sawla- Tuna- Kalba District where he will meet the people of Gbiniyiri and Gindabuou and then proceed to Sawla town to interact with the people.
The next day Tuesday 20th August 2019, the former President will start his tour in the Southern part of the Bole District at Banda- Nkwanta and then come back to Mandari and then Bole town to interact with them.
He said from Bole the former President will move to the North Gonja District where he will meet with the people of Daboya and Lingbinshi and return to meet the people of Busunu in the West Gonja District before proceeding to Tamale to continue his tour of other Regions.
Source: Nkilgi 103.7Fm, Bole (Savannah Region)
Monday 12th August, 2019.