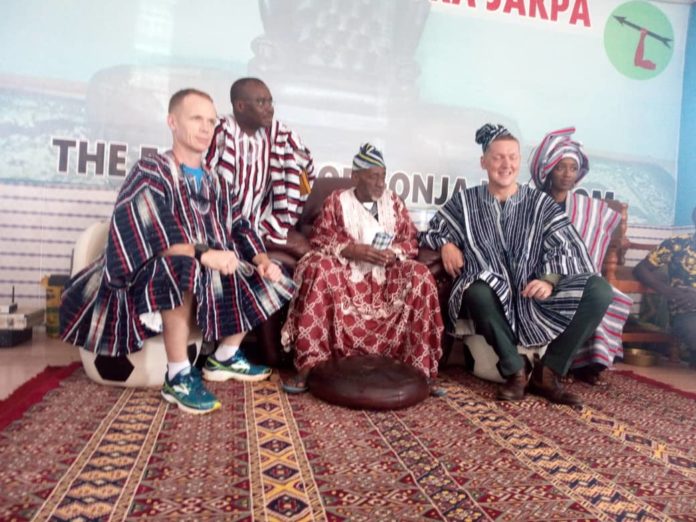 The British High Commissioner Mr Iain Walker is currently in the Savannah Region embarking on his cycling tour.
Mr Iain Walker started his tour dubbed, "Ghana Grand", at Tumu in the Upper West Region yesterday Friday, 9th August 2019 and he will be cycling over 1,000km from the North to the south of Ghana.
At Damongo the capital of the Savannah Region, Mr Walker visited the King and Overlord of Gonja Yagbonwura Tuntumba Boresa. He was led into the Palace by the Savanna Regional Minister Hon. Adam Salifu Braimah.
Yagbonwura called on the High Commissioner to help in bringing development to the infant region since the Savanna Region is rich in mineral deposits and very fertile lands for agricultural purposes alongside so many tourism sites.
Mr Walker on his part thanked the Yagbonwura for receiving him into his Palace.
He said through the use of the bicycle, he has seen a lot of developmental potentials in the region and will play a part in making sure he supports in bringing development to the region and Ghana as a whole.
The Savannah Regional minister Hon. Salifu Adam Braimah commended government and exolained that the new Region has many challenges and therefore and called for investors to explore the potentials of the region.
Mr Walker later presented a ram to the overlord for the his celebration of this years Eidul- adha celebration.
The High Commissioner later joined the Damongo Catholic Church to worship with them and visited the Larabanga ancient mosque as well as the mistic stone and the Mole National Park.
Source: Zion Abdul-Rauf/ Nkilgi 103Fm
Monday 12th August, 2019.