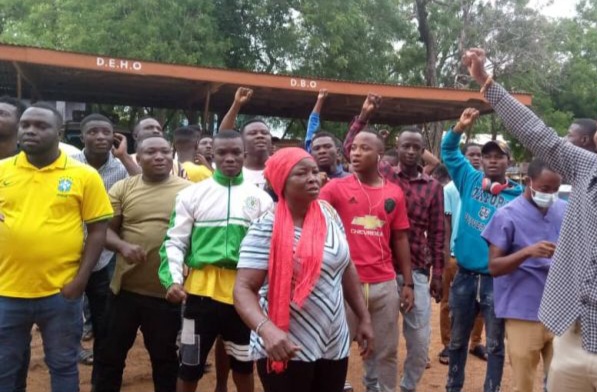 The Youth of Bole District in the Savanah Region have given the Regional Roads and Highways, the Savannah Regional Minister and the District Chief Executive (DCE) for Bole a one week ultimatum to ensure a contractor who is working on the Doli bridge is back to site or they will block the bridge.
A Leader of the Youth of Bole Adams Abdulai aka Culture speaking to Bole based Nkilgi Fm said they have alos given the Savannah Regional Minister and the DCE for Bole a one week ultimatum to give an update on why the contractor is not on site or they will "Block" the road and not allow any vehicle to pass and cause any disaster for any life to be lost.
Adam Abudulai disclosed that Bole Youth will invite the people of the Sawla-Tuna-Kalba District, the people of Wa to come and support them in the Bole for for the road to be blocked until the bridge to be constructed because they also pay taxes.
Adam Culture asked; "if the disaster was to happened in the home town of the Minister for Roads and Highways Hon. Amoako Atta or the President's home town would they had abandoned the bridge or the want some to die before?"
He added the Regional Minister is not for the people of Damongo alone and he was not appointed to be in the office always. So they are waiting to hear something from him or he will incur their wrath.
The popular Youth leader Adam Culture told the youth of Bole to prepare fir the action in the next one week if the contractor is not seen on site.
According to the Bole Youth, the Roads and Highways minister when he visited the Doli bridge after it was washed away by heavy rains, said they would construct a temporary bridge for vehicles to be using that stretch and after the rains the contractor will come and work on the bridge permanently.
The youth said after the Roads and Highways minister came through to have a first hand information on the bridge and made those pronouncements, the Regional Minister never gave the people of the Region any update about the bridge and the DCE is equally not saying anything about the construction.
Adams Abdulai aka Culture said after the washing away of the Doli bridge which was a national disaster, a long vehicle some weeks ago had an accident and blocked the road which became another international problem.
Adams Abdulai Culture added that just two days ago, another Rhino truck failed breaks and fell off the bridge.
He they as youth will not wait for lives to be lost before they rise to put the government on its toes to construct the bridge.
He said the rains have stopped and they don't know what the contractor is waiting for and that the Regional Minister and the DCE are not also saying anything.
Source: nkilgifmonline.com