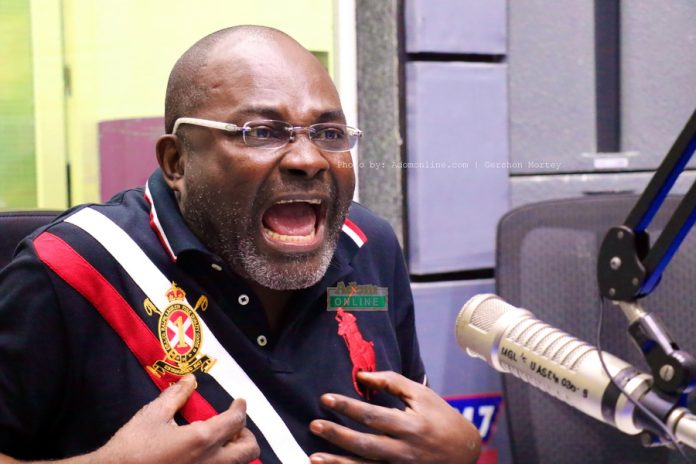 New Patriotic Party (NPP) Presidential aspirant and Member of parliament (MP) for Assin Central Hon. Kennedy Agyapong has assured the Savannah Regional Minister Saeed Jibril that he will shame him by building factories in the region.
Speaking on Wa based Home Radio on 24th July, 2023, Hon Kennedy Agyapong indicated that the Savannah Regional ministers work as a former classroom teacher is different from politics and so will ignore all those insulting him.
It would be recalled that the Savannah Regional Minister after the visit of the NPP Presidential aspirant Kennedy Agyapong to Damongo charged delegates of the NPP across the Savannah Region to vote for a personality like former President John Dramani to lead the NPP going into the 2024 elections and not radicals who are on an insulting spree.
Mr Saeed Muhazu Jibril described the campaign methods of Assin Central MP Kennedy Agyapong and former General Secretary of the NPP Mr Kwabena Agyapong as very insulting targeting the personality of Vice- President Dr Mahamudu Bawumia, which at the end will spell doom for the NPP party.
Speaking on Damongo based Kasha FM on Wednesday 19th July, 2023, Mr Muhazu said all campaigns are supposed to be tilted towards the achievements of the party since "you can't speak against the same party you seek to lead".
He described them as unpatriotic members of the party who should not come near to leadi the party.
However Hon Kennedy Agyapong respondingto the comments of the Savannah Regional Minister on Wa based Home Radio said; "many people not only in Ghana don't like the truth so when you are telling the truth you become the target…so it's been difficult for me right from the beginning that people are going out there insulting Kennedy Agyapong when I'm giving my message".
He added; "But I wait for a while with insults..insults then I hit them one and all the insults they did not hear but the one that Kennedy Agyapong defends himself is a problem to the party …very unfair!".
Kennedy Agyapong further said but I ignore a lot of things and move on and im given an example of the Teacher who is now a Regional Minister at Savannah insulting me…I've just ignored him but one day I will build factories in Savannah for him to see" adding "if he doesn't believe he should come, I will take him to Tema for him to see the steel plant I've built..let him come and see I've built the biggest cold store facility in Africa not Ghana or West Africa, the whole Africa..check one cold store that is thirty- one thousand tonnes, but I've built it, no loan, nothing, I don't owe no bank in this country.
A livid Kennedy further said; "call all the banks in this country that Kennedy Agyapong says he doesn't owe a bank..I've never taken a loan so we have to appreciate this..it is not your classroom work".
Source: nkilgifmonline.com