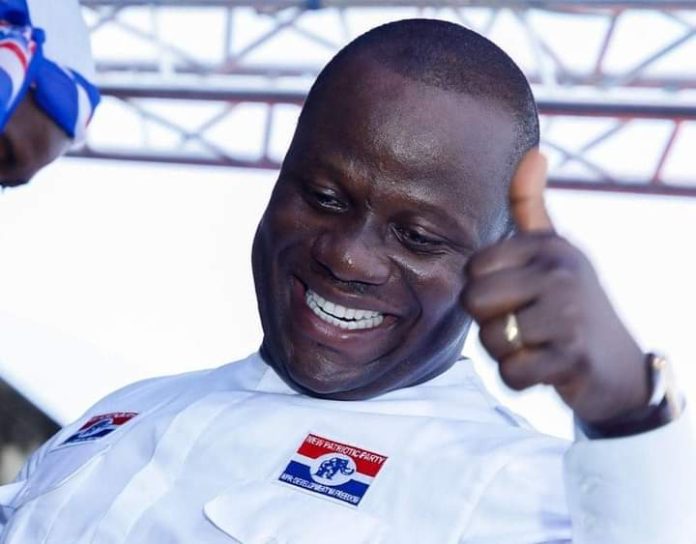 Member of Parliament (MP) for Assin Central and New Patriotic Party (NPP) Presidential hopeful Hon Kennedy Agyapong has said that if Ghanaians are looking for someone to lead Ghana, the MP for Damongo and Minister for Lands and Natural Resources Hon Abu Jinapor is one of them.
He stated; "If you want someone to lead Ghana Abu Jinapor is one of them because he os one person of you give him the chance he can deliver".
Speaking to NPP delegates of the Damongo Constituency at the newly built Damongo ultra modern Community Center on 18th July, 2023, the NPP Presidential hopeful stated; "Considering what Abu Jinapor has done here (Damongo Constituency) when you consider the seats we are sitting on lets clap our hands for him..".
He said he has visited 216 Constituencies and has never seen a nice Community Center like that of Damongo.
Kennedy Agyapong told the delegates of Damongo that; "You have one of the finests MP's" adding Hon Abu Jinapor is a colleague in Parliament but he is one person that respects a lot and he knows how to deal with elders and he doesn't take sides easily but study issues before acting.
The Assin Central MP said; when I came to Damongo the venue for this meeting was so nice so I asked the Chairman if it was Abu Jinapor that constructed the venue nad he said yes".
Kennedy Agyapong said when Abu Jinapor became a Minister and invited him to his office, he saw massive changes which clearly indicates Abu Jinapor is wise and when given an opportunity in Damongo and the Savannah Region he can influence a lot of development.
Kennedy Agyapong added that; "one thing left is for me to do is to sit with Abu Jinapor to coach him on business" adding "he is a proper technocrat but need to add business to make him big".
He further said, "When I look at the opportunities in Savannah Region and the five Northern Regions Abu should take advantage of it and build businesses in these regions".
"I know he (Hon Abu Jinapor) is a very smart MP but I'm going to guide him because when it comes to business I'm very smart..so I will guide him to take advantage of the arable lands in the five Northern Regions so he can create industries"; Kennedy Agyapong added.
"When i came to the 5 Northern Regions, I realised God has gifted Northerners a lot of natural resources but I don't understand why the North is mentioned people think they are poor…they are not poor, they only need hood leaders for businesses to create opportunities for these regions".
Kennedy Agyapong further said religious politics will note help the NPP and encouraged delegates to vote for someone that can change their life.
According to him some it is sad that with all the land and natural resources of of Northern Ghana that change the life of the people, what are we doing.
He said some will come and say; "Oh.. I'm from the North so vote for me; I'm a a Muslim so vote for me..so coming from the North and with this many positions and opportunities didn't he know he could have built factories here for the Youth to do.
"So how do you feel that you are from Northern Ghana and you are a politician given big positions but your people still go to Southern Ghana to do menial jobs like head potters.. are you not ashamed of yourself".
Source: nkilgifmonline.com