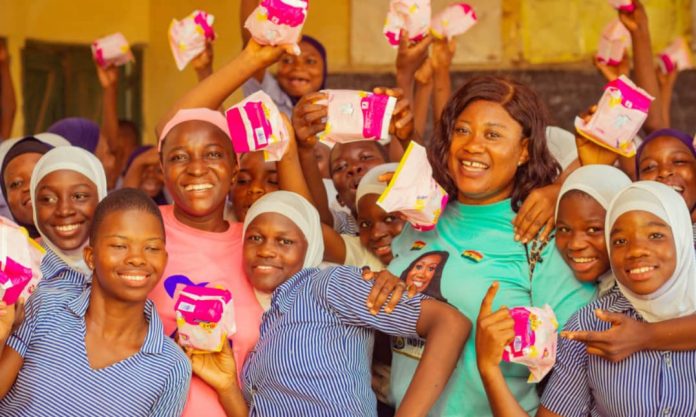 Over 2000 teenage girls in nine communities in the West Gonja Municipality of the Savannah Region were left with excitement over the week when they received sanitary pads from the Naada Jinapor Foundation annual sanitary pad project with about 2,000 packs of sanitary pads being distributed to commemorate the Menstrual Hygiene Day event.
The distributions which took place between 29th May 2023 31st May, 2023, according to the foundation seeks to amplify the foundation's mission to prioritize the concerns and advancement of reproductive health of young women in the constituency.
The foundation also joined the public call for the scrapping of taxes on menstrual pads to make them affordable and accessible for the young female child, adding that menstruation is a unavoidable fact of life and thus, access to essential hygiene products during menstrual cycles should be non-negotiable.
"It is important that policymakers take note of this to address the challenges related to menstrual hygiene"; it added.
The beneficiaries of this year's project were JHS 1-3 Girls from Achubunyor, Busunu, Sor, Yipala Nabori, Larabanga, Mole Game, Apilso, Canteen and Damongo town.
The students were sensitized on the need to observe sanitary measures during their menstrual cycle. Our facilitators motivated our young girls to be confident and embrace it as a biological reality. We also conscientised them to ignore the stigma that comes with menstruation and embrace it as a super power. We taught our girls that menstruation was not dirty, contrary to popular stereotype.
The Naada Jinapor Foundation further assured all that it would stick to its objectives and work to ensure that the foundation's efforts would make a significant difference in lives of women in the Savannah Region and the nation at large.
The Menstrual Hygiene Day is observed every year on May 28 to raise awareness on good menstrual hygiene management and highlight on challenges associated to access of menstrual products.
Source: nkilgifmonline.com