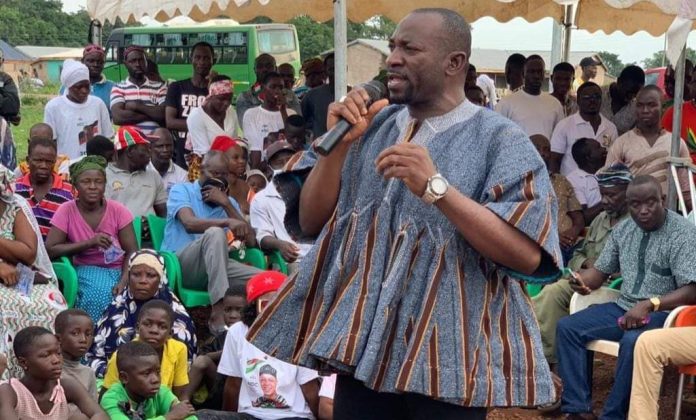 The Savannah Regional National Democratic Congress (NDC) Chairman, Alhaji Imoro Seidu popularly known as 'Man Blessing' said it it is a social and communal responsibility to save Ghana from its current state of despair and decay and so all NDC members should push for a door to door campaign where the masses will know that the only leadership option to save Ghana which is currently in disarray is one led by Mr John Dramani Mahama.
He made this comment in a congratulatory message to the elected NDC Flagbearer former President John Dramani Mahama and all elected Parliamentarians in the Savannah Region.
The message contained in a press release on 20th May, 2023 and copied to Bole based Nkilgi Fm and signed by Mr Bodai Gafaru an
Aide to the NDC Savannah Regional Chairman stated; "Congratulations to
the President in waiting and the newest flag bearer elect of the great
NDC, John Dramani Mahama."
According to the statement, the former President and NDC Flagbearer deserve the massive endorsement from
delegates to match with the rigorous and tireless campaign he carried out.
The release further indicated, the party will like to celebrate all the gallant aspirants of the 7 constituencies in the Savannah region for their great campaign and the work they put out which has come to deepen the internal democracy of the NDC party.
However, there are no victors and losers in the social democratic addition, so the release urged and encourage all aspirants to not relent on their efforts.
The statement added that those aspirants who got chosen to represent the NDC should know there is a task ahead of the Party in 2024 and that 7/7 seats for NDC in the Savannah Region is possible, indicating; "We have done it before and we will do it again and to succeed we must keep everybody together, no more teams, the only team we have now is NDC."
The press release indicated that, the rank and file of the party must be
resolute to return the NDC Flagbearer John Dramani Mahama to the flagstaff house and it should start now.
The Savannah Regional NDC Chairman reassured every NDC member of his commitment to defend and protect their vote making sure their voices will be heard and no degree of intimidation will be tolerated under his watch.
The Chairman added that, he will walk the talk with action and the rhetoric of some people that they will not hand over power to the NDC is a mere rhetoric and a joke at best.
He urged Party members to go all out come December 2024 with their chest out, be proud and exercise their constitutional mandate.
He said, "Vote the NDC and we will protect your vote.Your vote will count for the victory."
Source: nkilgifmonline.com