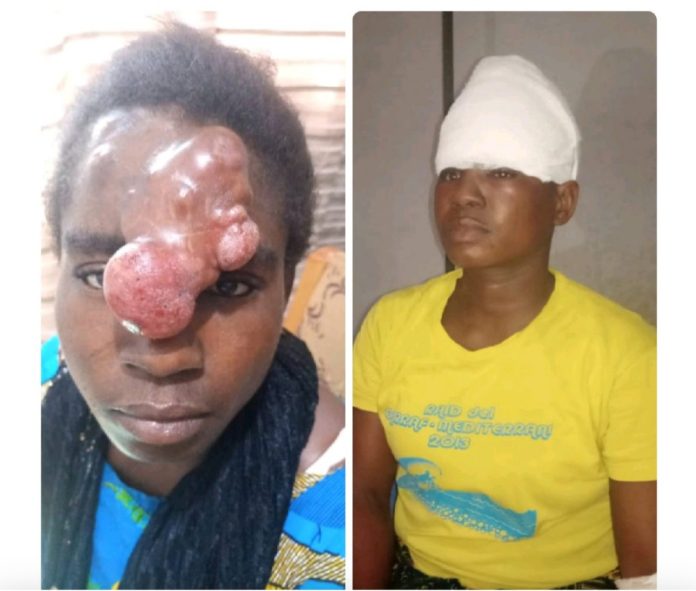 The Member of Parliament (MP) for the Damongo Constituency and Minister for Lands and Natural Resources Hon Samuel Abu Jinapor has taken up the full cost of a tumor operation of a 36 year old lady from the Damongo Constituency.
The lady, Miss Janet Kumbayere Basigna who has had the tumor grown in the forehead for more than two years started suffering after it had reoccurred following an initial operation some years back.
The lady who was at the verge of loosing her life because of the cost involved fortunately had the full cost of operation taken care of by the Damongo MP.
The Consultant Reconstructive Plastic Surgeon of the Tamale Teaching Hospital, Dr Ighohwo Ethuh in an exclusive interview with Bole based Nkilgi FM narrated how the lady was brought to his facility and the processes involved before the tumor was removed.
He said he received a call from the Hon Jinapor to go ahead irrespective of the cost to save the life of the lady which according to him was a big challenge since the tumor had grown long into the skull of the lady.
He disclosed that several units of blood was used in the operation and indicated that he feels very great as a surgeon for successfully performing the operation.
The Doctor used the opportunity to thank all the people who spend money in supporting patients with such conditions since the cost involved is always very big.
Close to over Ghc160,000 has so far been spent on the lady kind courtesy Hon. Samuel Abu Jinapor.
The Municipal Chief Executive (MCE) for the West Gonja, Mr Karim Musah Kusbari who visited the patient on behalf of the MP said the lady met the MP during one of his rounds in the Constituency and upon seeing her condition without questioning who she was, the lady was asked to meet him the MCE for medical assistance.
He said the MP has over the years assisted in the medical situations of many of the constituents including the operations of many cases of strangulated hernia of so many patients in the Constituency.
The MCE added the Damongo MP hates to see people suffer in health condition and is ever ready to support people in such cases.
Meanwhile Madam Janet Basigna, the tumor patient in an interview thanked the Damongo MP for spending such huge amount of money to see her alive.
She said the likes of Samuel Abu Jinapor are rare and prayed for the member of parliament to continuously go higher in what ever endeavors he finds himself.
Janet Basigna is still receiving treatment at the medical center and is expected to be discharged within the week.
Source: nkilgifmonline.com