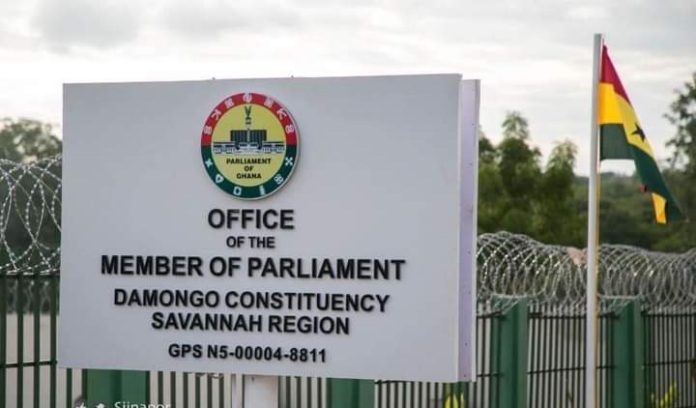 The Office of the Member of Parliament (MP) for the Damongo Constituency Hon Samuel Abu Jinapor has released a press statement disclaiming an audio recording purported to be coming from one WOI Akonatu Samed, an officer with the Ghana Armed Forces alleging the MP had insulted the Chief Imam of the Buipe Traditional area.
The press release signed by Mr Bawa Fuseini aka Capacity, the Coordinator for the Office of the MP for Damongo Constituency copied to Bole based Nkilgi Fm indicates that, the said audio is a false publication about the person of Hon. Samuel Abu Jinapor.
According to Mr Bawa Fuseini, the Office of Hon. Samuel Abu Jinapor wishes to put on record, unequivocally, that the said allegation by WOI Samed is palpably false.
The press release further stated that, Hon. Jinapor has not spoken to the Chief Imam in recent times, neither has he had cause to discuss the Imam with anyone, let alone insult him indicating that, Hon. Jinapor, as is widely known, is a decent and responsible Public Servant and does not believe in insults and or inappropriate language and, thus, denies this malicious and scandalous allegations categorically in the strongest terms possible and find the commentary most unfortunate.
"Also, Hon. Jinapor has utmost respect for the Buipe Chief Imam who happens to be his grandfather and would have no cause to disrespect him, or any person".
The release urged the general public to disregard the said allegations as they are only intended to unduly tarnish Hon. Jinapor's hard won reputation while this Office considers its next cause of action(s).
WOI Akonatu Samed, a serving military officer with the Ghana Armed Forces over the weekend threatened to deal with the MP for the Damongo Constituency and Minister for Lands and Natural Resources, Hon. Samuel Abu Jinapor in a widely circulated audio on many WhatsApp platforms.
He alleged that the Hon Samuel Abu Jinapor insulted his father and will deal with him should he make that mistake again in his life by insulting his father, the Chief Imam of the Buipe traditional area.
Mr Samed further added in the audio tape in circulation that he has ordered his father not to go to the Palace of the Buipewura since he is the one behind the insults.
Meanwhile, Mr Samed in a subsequent writeup on one of the platforms has revealed that the MP for the Yapei-Kusawgu and elder brother of the Minister for Lands and natural Resources has called him on phone to resolve the impasse between him and the brother.
He wrote;
"I have just had a fruitful discussion with MP for Yapei-Kusawgu, Hon. John Abdulai Jinapor. I wish to assure you that we are committed to resolving whatever difference we have and wish to call all to exercise restraint and allow peace to prevail"
Source: nkilgifmonline.com