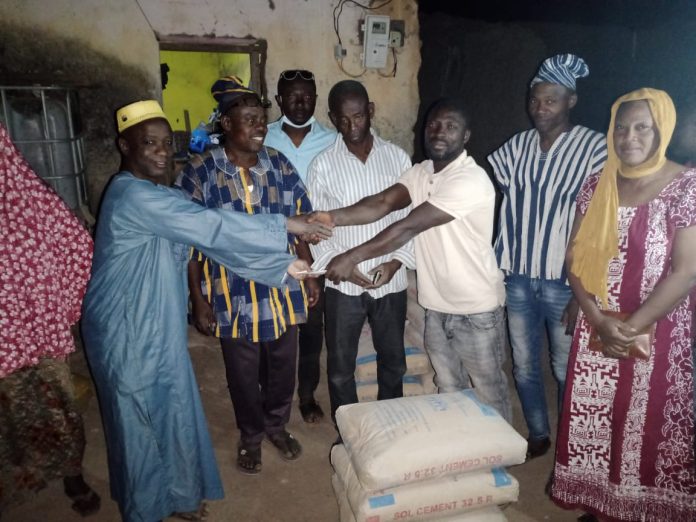 A National Democratic Congress (NDC) member from the Bole-Bamboi Constituency based in Egypt Mr Yahaya Amantana has donated twenty
(20) bags of cement and an amount of one thousand cedis (Gh¢1,000) to be used to support the building of a NDC party office for the Mandari electoral area in the Bole District of Savannah Region.
Speaking to Bole based Nkilgi fm, Mr. Mohammed Amantana said, the
Party members of the NDC in Mandari pleaded for support to build a Party office.
According to Mr. Mohammed Amantana, immediately he arrived in Bole he made the plight of the Party members in Mandari known to Mr Yahaya Amantana.
He said Mr Yahaya Amantana wasted no time and arranged the 20 bags of cement with Gh¢1,000 as donation support for the project.
Mr Mohammed Amantana further said the party office will belong to all party members
and will be the base of every member of the party across the country and hence very important.
Mr Mohammed Amantana added that, though the people of Mandari are facing a lot of challenges all can't be solved at the same time.
On behalf of the NDC party in the Mandari electoral area, Mr Dari Kipo who is a branch secretary thanked Mr. Yahaya Amantana for the gesture.
He said, this is the beginning of the building of the office and subsequently they will need a lot of building materials to complete it and as they have been remembered and supported with the 20 bags of cement and the Gh¢1,000, they hope
he will still support them at the right time when the need arises.
Mr Dari Kipo added that their prayers is that what ever Mr. Yahaya Amantana is seeking for will be granted to him so that he can
support the people of Mandari put up thier party office.
He added that, though Mr Yahaya Amantana has not won any position yet in the party but, he has started supporting the NDC and they believe he will do more when he wins any position he wants to contest.
He said, the party office will need furniture and any time Mr. Yahaya Amantana has another opportunity, he should consider and help them with chairs.
Source: nkilgifmonline.com