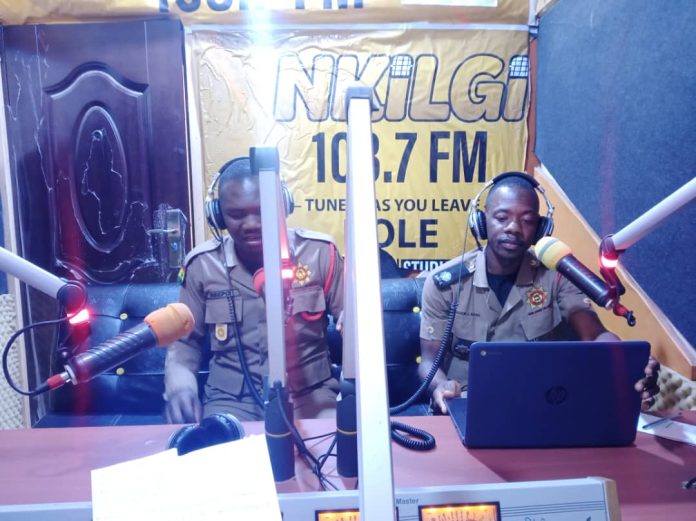 The Ghana National Fire Service (GFS) in Bole District of the Savannah Region is embarking on a Radio Sensitization of residents on preventive mechanism and methods to use during fire outbreaks in this harmattan season.
Officers of National Fire Service led by the Assistant Station Officer for the Bole District, Mr Bawa Alhassan Ibrahim were in the studio of Bole based Nkilgi Fm for the first programme of a series activities outlined to achieve the aim of minimising and or preventing bush fires in the area.
The officers who educated residents on Bushfires and how to prevent it said Bushfires are a phenomenal occurrence attributed to the negligence of human activities.
According to Mr Bawa Alhassan Ibrahim, Bushfires are mostly caused by the activities of cigarette smokers, farmers, hunters and Fulani herdsmen in most communities.
He said, some cigarette smokers do not put off their cigarette butts after smoking and don't dispose it well, which can result in a fire outbreak when there is contact with grasses or a rubber, causing a full blown fire outbreak in farmlands or bushes.
Mr Bawa Alhassan Ibrahim said farmers sometimes forget to put off fire they use to cook on farms and hunters leave the fire they use to smoke out bush animals from their holes which if not put of well will start a small fire which will eventually become a big fire spreading to other sides of the farmlands or bush.
He said in such cases a fire belt if constructed on the farm will prevent the fire from spreading to other parts of the bush.
He further added that the activities of herdsmen is a contributing factor to Bushfires with some of these herdsmen after cooking in the bush not putting off the fire well, this he said after a while lights up burning the bush and other people's farmlands.
Also this harmattan season, Parents should be mindful of their children and not allow them to play with matches, as well as not allowing children to play with fire in and outside their homes.
He said such causes of Bushfires can be prevented by making sure cigarette butts are being well put off, and farmers constructing fire belts on their farms to avoid the spread of fire, also hunters should put off the fire they use to smoke animals out.
He advised residents to always make sure to call the fire service first when ever there is fire outbreak.
Mr Bawa Alhassan Ibrahim said, the doors of their office is always opened and is always ready to respond to any fire case anywhere in the district.
Source: nkilgifmonline.com