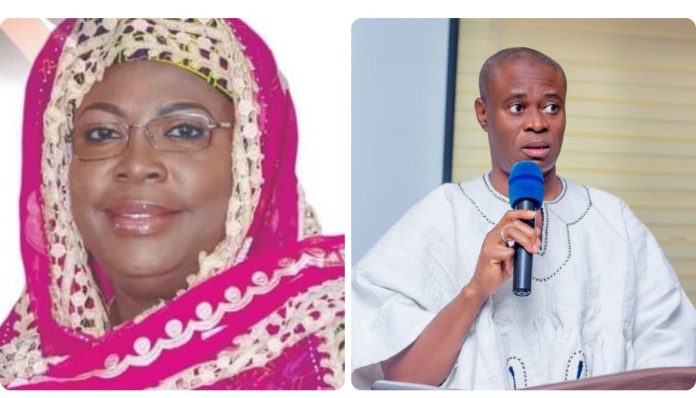 A declaration of support for some of the Savannah Region Youth Organiser Aspirants seem to have divided Members of Parliament (MP's) from the Savannah Region.
While the MP for the Salaga South Constituency Hajia Zuwera Ibrahima declared her support for Alhaji Inusah Mahama from Salaga, the MP for the Bole-Bamboi Constituency Alhaji Yussif Sulemana alao declared for Seidu Osman Weekends aka Chenche from Bole.
The Salaga South Constituency Hajia Zuwera Ibrahima in her declaration statement posted on social media said; "Alhaji Inusah 4As, your modesty is infectious and I respect you highly for that. I can imagine Hajia Zuwera writing pages, cataloging all the ups and downs. But that's you and indeed it pays to be modest".
The Salaga South MP added; "It's heart warming to finally see your statement of intent to seek reelection. As you go into this contest, keep 4 things in mind;
1.NDC Salaga-South is proud of you
NDC Savannah Region is proud of you
The NDC caucus in Parliament is proud of you
NDC National Headquarters is proud of you".
Hajia Zuwera Ibrahima also said; "You gave your all so we could save NDC and out dear H.E. JM from shame in Savannah Region. You were with me when I visited the Savannah Regional Council of State Member last year in Bole and you heard what he said about our winning of the Salaga South seat. The hit the NPP a blow they'll never forget.We cherish you and we love you".
She concluded; "Go with the
blessings and favour of Almighty Allah for
your love for party is genuine and
unalloyed. I leave you with this time tested wisdom and that us that don't be complecent.
Work like you started fresh today. I know
you have the zeal and fortitude for it and l
know you are resilient and I know you're
going to work hard for victory".
The MP for the Bole-Bamboi Constituency Alhaji Yussif Sulemana also in a goodwill message to the NDC Youth as they go the polls on Sunday 13th November, 2022 to elect new Regional leadership said;
"I express the solidarity of the Constituency (Bole-Bamboi) with Seidu Osumani aka Weekends/Chenche in his pursuit to be elected as the Savannah Regional Youth Organizer".
In a statement signed for the MP, Bole-Bamboi Constituency, his Spokesperson
Tahiru Iddisah Omega stated; "He has our deepest appreciation for the positive contributions to the NDC in Bole-Bamboi and Savannah as a whole. The Constituency will miss his interventions such as the busing of students from various tertiary and second cycle institutions to vote during general elections, payment of school fees for students across the Constituency, provision of start-up capital for Youth in the Constituency and above all his fearless Leadership in mobilising our party members to match the NPP boot for boot in general elections".
Alhaji Yussif Sulemana further said; "I have also read in the news of his intervention in the Daboya area in respect of restoring their broken down boreholes. These qualities, I believe, are necessary ingredients for the forward movement of the NDC youth in our region and place him in a pole-position for election to this office".
Some writers on social have however faulted the MP for Bole-Bamboi Constituency for declaring his support for Seidu Osman.
One stated that the MP for Bole-Bamboi is the Chairman of all NDC MPs from the Savannah Region and should have exercised restraint.
But the Spokesperson of the MP for the Bole-Bamboi Constituency Tahiru Iddisah Omega in a rebuttal said the MP for Bole-Bamboi Constituency believes in building bridges rather than breaking same.
Omega said if other constituencies openly supported their candidate and even tried to create the impression that the Savannah parliamentary cacaus is solidly behind him, what prevented the Bole-Bamboi MP from stating his point clearly.
Meanwhile there is pressure on the MP for the Sawla-Tuna-Kalba Constituency of the Savannah Region to also declare for the third candidate Issahaku Yahaya Kalusha from Sawla.
Source: nkilgifmonline.com