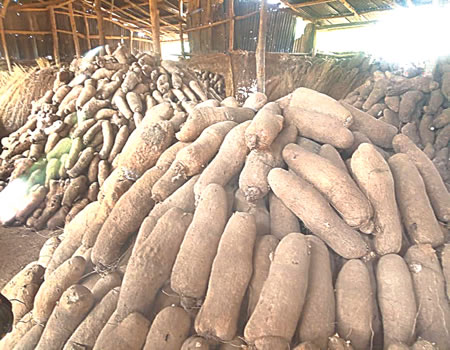 Stealing of Tubers of yam on farms in the Bole area is making some farmers to threaten stopping cultivating of yams as an occupation.
The farmers in the Bole area have lamented how their yams are now being stolen on their farms with impudence.
They told Bole based Nkilgi Fm that they are now frustrated to the point that if nothing is done by Bolewura and the landowner's "Kadewura" they will take the law into their hands.
The farmers noted that they are facing problems with Fulani herdsmen who allow their cattle to destroy their farmlands and the least they expect is the Stealing of yams in peoples farms which is a taboo.
The farmers told Nkilgi Fm that when it comes to cultivation of yams it takes a lot of sacrifice to be able to clear the land, create mounds before selecting the right stem to plant, after planting one needs to periodically weed around the mounds to make it easy for the stems to germinate.
The aggrieved yam farmers have therefore said any suspect they find on their farms stealing will be duly dealt with instantly.
Source: nkilgifmonline.com