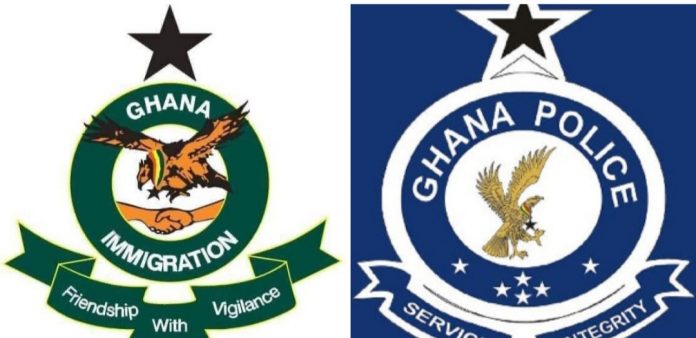 The Immigration Service and Police in the Bole District have admonished the Chiefs and leaders in the various border surrounding communities to interrogate and take records of fresh Fulani herdsmen who sometimes pass through unapproved routes into their communities because they can't do it all alone and will need the support of all to succeed in record keeping which will be of benefit to foster a strong social cohesion and integration of the people and as well combat crime in the Savannah region and Ghana as a whole.
Speaking at the Savannah Regional House of Chiefs general meeting on 23rd June, 2022 held in the Bole Traditional area on the theme; "Building a strong social cohesion and integration of the people of the Savannah region to draw a roadmap for a harmonious social cohesion in the region", the Sector Commander of the Ghana Immigration Service, Chief Supt. Johnson Appiah Benefo expressed his profound gratitude to the House for inviting him to such an important meeting and to be given the opportunity to dialogue and find solutions to the activities of Fulani herdsmen.
Chief Supt. Johnson Appiah Benefo said, the Immigration service doesn't have any issue with Fulanis because they are also ECOWAS nationals and deserve the best of treatment and that there is no law that assigns the Immigration service to concentrate on the issues of Fulanis alone either by harassing them in any inhumane form.
He indicated that, the problem is how to differentiate between Fulanis who have been in Ghana for some years with those who are coming in fresh into the Bole district and to notice the difference there is a need to interrogate the individual to get the right information than to presume the person to be a Fulani. He said this is a routine of identification to all ECOWAS nationals.
On his part, the Bole Police Commander ASP Benjamin Buxton congratulated the regional house of Chiefs for coming out with the dialogue so that together crime rates will be brought to the barest minimum.
ASP Benjamin Buxton said from January up to June the police has recorded Fourty-One (41) stealing cases with nine (9) robbery cases and Four (4) kidnapping cases, these kidnapping cases have been traced directly to Fulani cattle owners who have had their cattle herdsmen kidnapped for ransoms.
He said investigations indicates that most of these heinous activities are perpetrated by Fulanis.
ASP Benjamin Buxton pleaded with the Chiefs and stakeholders to sensitize their Communities to help the police with vital informations on criminals in their areas because most of these Fulanis are linked to notable criminals in the communities and as such should be named and shamed and reported to the police to serve as a deterrent to others.
He added that, the Police service will continue to engage and sensitize the Gonja and Fulani Communities to bring about a strong social cohesion and integration of the people of the Savannah region.
Source: nkilgifmonline.com